Rampur Uttar Pradesh Parliamentary Constituency 2019, Rampur Lok Sabha Constituency Details, Political News Rampur, Uttar Pradesh Lok Sabha Elections 2019 News Updates, Uttar Pradesh Parliamentary Constituency details 2019, Rampur MP, Issues Political Ana
Details

Parent Category: Political News
Last Updated:

Thursday, 24 January 2019 11:20
Rampur Uttar Pradesh Parliamentary Constituency 2019, Rampur Lok Sabha Constituency Details, Political News Rampur,Uttar Pradesh Lok Sabha Elections 2019 News Updates, Uttar Pradesh Parliamentary Constituency details 2019, Rampur MP, Issues Political Analysis 2019: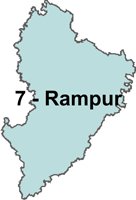 About the Constituency:
One of the 80 constituencies of Uttar Pradesh, Rampur Lok Sabha Constituency was formed before 1957. The Rampur Parliamentary constituency (constituency number 7) has a total of 1,154,544 electorates out of which 531,775 are females and 622,769 are males according to Election Commission of India 2009 reports.
Assembly Segments:
It has five Vidhan Sabha segments of which one is reserved for the SC category
Names of Assembly Constituencies

Suar

Chamraua

Bilaspur

Rampur

Milak (SC)
About Rampur:
It covers the district of Rampur which is a part of the Moradabad Division and is divided into five tehsils: Bilaspur, Milak, Rampur, Shahabad, Swar and Tanda. Rampur District covers an area of 2,367 sq km.
Entire Demographic pattern:
According to the India census 2011, the district has a population of 2,335,398 and is the 194th most populous district of the country. About 52% of the population is male and 48% is female. From 2001-2011, its population growth rate has been 21.4% and the population density of Rampur is 987 people per sq km. 16.24% of the population is under six years and the sex ratio is 909 females per 1000 males. The average literacy rate here is below the national average at an appalling rate of only 53.34% with male and female literacy rates at 61.40% and 44.44%. Hindi and Bhojpuri are the most commonly used languages here. 51% of the population comprises of Muslims.
Agriculture is the primary economic activity here. National Highway NH-24 and NH-87 pass through the district.
Present Political Scenario:
Make shift by Jayaprada may turn into wide open contest
With two time MP, Jayaprada shifting party and LS seat, there is a wave for change in this parliamentary constituency .

Inspite of Azam Khan, Kalyan Singh still holds Lodh votes
This is Azam Khan territory, where former UP CM Kalyan Singh still holds sway due to significant presence of Lodh votes. In a polarized atmosphere where Lodh votes are back to the saffron camp in a big way, chances are there seat may go to any party's fold.