Muzaffarnagar Uttar Pradesh Parliamentary Constituency 2019, Muzaffarnagar Lok Sabha Constituency Details, Political News Muzaffarnagar, Uttar Pradesh Lok Sabha Elections 2019 News Updates, Uttar Pradesh Parliamentary Constituency details 2019, Muzaffarna
Details

Parent Category: Political News
Last Updated:

Tuesday, 29 January 2019 11:50
Muzaffarnagar Uttar Pradesh Parliamentary Constituency 2019, Muzaffarnagar Lok Sabha Constituency Details, Political News Muzaffarnagar,Uttar Pradesh Lok Sabha Elections 2019 News Updates, Uttar Pradesh Parliamentary Constituency details 2019, Muzaffarnagar MP, Issues Political Analysis 2019: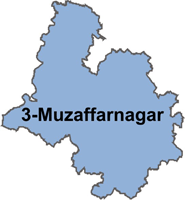 About the Constituency:
The Muzaffarnagar Lok Sabha Constituency (constituency number 3) consists of 1,370,117 number of electorates in totality, of these 751,324 are males and 618,793 are females as the Election commission of India 2009 data suggests.
Assembly Segments:
Formed prior to the 1957 elections, the constituency of Muzaffarnagar is one of the 80 Lok Sabha constituencies of Uttar Pradesh comprising of five legislative assembly segments.
Names of Assembly Constituencies

Budhana

Charthawal

Muzaffar Nagar

Khatauli

Sardhana
About Muzzafarnagar and Demography:
The district of Muzaffarnagar is in the Saharanpur division between the rivers of Ganges and Yamuna. It covers a total area of 4,008 sq km and has an altitude of 272 m.
The district has a total population of 4,138,065 and the city houses about 392,451 of them. 52% of the population consists of males and 48% consists of females. 12.2% of the population is under the age of six and the sex ratio of female to male is 897 to 1000. The average literacy rate is 80.99%, male literacy rate is 85.82% and female literacy rate is 75.65%. The population has a 69% Hindu majority followed by 27% of Muslims.
Present Political Scenario:
Why BJP can fancy its chances:
Of all the contenders in the fray for this very significant seat, BJP has chosen possibly the best man to represent the party instead of rabble rousers like Sangeet Som, which has sent a clear message that Modi's agenda is one of development.

Why things may go in favour of BJP?
Dr Sanjiv Baliyan, agricultural scientist is an emerging Jat icon and represents the suave face of Jat politics who talk of ideas to solve problems rather than simply create violent agitations.
Dr Baliyan has the potential to be a new age Chaudhary Charan Singh in the next few years and create a dynamic shift in the socio-political landscape of Jats, which surely augurs well for the BJP.