Moradabad Uttar Pradesh Parliamentary Constituency 2019, Moradabad Lok Sabha Constituency Details, Political News Moradabad, Uttar Pradesh Lok Sabha Elections 2019 News Updates, Uttar Pradesh Parliamentary Constituency details 2019, Moradabad MP, Issues P
Details

Parent Category: Political News
Last Updated:

Tuesday, 29 January 2019 17:02
Moradabad Uttar Pradesh Parliamentary Constituency 2019, Moradabad Lok Sabha Constituency Details, Political News Moradabad,Uttar Pradesh Lok Sabha Elections 2019 News Updates, Uttar Pradesh Parliamentary Constituency details 2019, Moradabad MP, Issues Political Analysis 2019: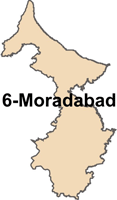 About the Constituency:
Formed before the 1952 elections, the Parliamentary Constituency of Moradabad is one of the 80 Lok Sabha constituencies of the state of Uttar Pradesh and it presently comprises of five Vidhan Sabha segments. According to Election Commission of India 2009 data the total electorates in the Moradabad Parliamentary constituency (constituency number 6) were 1,388,525 of which 634,547 are females and 753,978 are males.
Assembly Segments:
Names of Assembly Constituencies

Barhapur

Kanth

Thakurdwara

Moradabad Rural

Moradabad Nagar
About Moradabad:
The administrative headquarters of Moradabad district is situated in the city of Moradabad. It is located in the northern part of the state at a distance of 167 km from the national capital, New Delhi. Situated on the banks of the river Ramganga, this town lies at an average elevation of 198 meters. Hindi is the official language of Moradabad, though Urdu, Punjabi and English are widely spoken.
Demography:
According to the census data of 2011, Moradabad has a total population of 889,810 of which 53% are males and 47% are females. It has a sex ratio of 908 females per 1000 males. 12.4% of the population is below the age of six. The city of Moradabad has an average literacy of 70.65% with male literacy at 74.05% and female literacy at 66.90%. The economy of this city is primarily dependent on the brass industry, the produces of which are exported worldwide. Moradabad has a promising number of notable universities, schools and colleges. The divisional headquarters of the Northern Railway of India is situated in this city. National Highway NH 24 passes through Moradabad.
Present Political Scenario:
Chances of Split in vote:
As Congress, which had won the previous election, has nominated Rampur royalty Noor Bano, there is a definite possibility of a split in minority votes between Congress and BSP.