Meerut Uttar Pradesh Parliamentary Constituency 2019, Meerut Lok Sabha Constituency Details, Political News Meerut, Uttar Pradesh Lok Sabha Elections 2019 News Updates, Uttar Pradesh Parliamentary Constituency details 2019, Meerut MP, Issues Political Ana
Details

Parent Category: Political News
Last Updated:

Thursday, 24 January 2019 11:33
Meerut Uttar Pradesh Parliamentary Constituency 2019, Meerut Lok Sabha Constituency Details, Political News Meerut,Uttar Pradesh Lok Sabha Elections 2019 News Updates, Uttar Pradesh Parliamentary Constituency details 2019, Meerut MP, Issues Political Analysis 2019: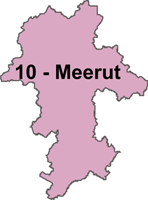 About the Constituency:
One of the 80 Lok Sabha Constituencies of Uttar Pradesh, formed before 1952, the constituency of Meerut comprises of five Vidhan Sabha segments one of them is reserved for the SC category. 1,508,788 is the total electorate count in the Meerut Lok Sabha Constituency (constituency number 10). Out of these 822,518 number of electorates are males and the remaining 686,270 are belong to the female category as the Election commission of India 2009 reports suggest.
Assembly Segments:
Names of Assembly Constituencies

Kithore

Meerut Cantonment

Meerut

Meerut South

Hapur (SC)
About Meerut:
It covers the District of Meerut which belongs to the Meerut Division and covers an area of 2,522 sq km. It lies to the south of Muzaffarnagar District with River Ganges to the west. Hindi is the official language. The district has several schools and colleges including 50 engineering colleges. Agriculture, handloom and pharmaceuticals are few of the major economic activities here. NH-58, NH-119 and NH-235 are the National Highways which pass through the district.
Demographic pattern:
As per India census data 2011, it has a population of 3,443,689 with 52% male majority and 48% of females. It is the 94th most densely populated district of the country. Over the decade of 2001-2011, the population growth rate has been recorded to be over 15% and the population density is 1,346 people per sq km. 16.66% of the population is under six years and the sex ratio is 885 females per 1000 males. The average literacy rate here is 72.84% with male and female literacy rates at 80.74% and 63.94%. Hindus have a majority here.
Present Political Scenario:
Likely to be BJP Versus BSP contest

Rajendra Agarwal, sitting MP, has been re-nominated from here.
The main fight here would be between BJP and BSP. BSP will likely get the support of Muslims and a large section of Dalits, whereas BJP should get full support of Jats, OBCs and more importantly the upper-caste votes (which went to BSP in large numbers even in 2009