Lalganj Uttar Pradesh Parliamentary Constituency 2019, Lalganj Lok Sabha Constituency Details, Political News Lalganj, Uttar Pradesh Lok Sabha Elections 2019 News Updates, Uttar Pradesh Parliamentary Constituency details 2019, Lalganj MP, Issues Political
Details

Parent Category: Political News
Last Updated:

Friday, 25 January 2019 13:05
Lalganj Uttar Pradesh Parliamentary Constituency 2019, Lalganj Lok Sabha Constituency Details, Political News Lalganj,Uttar Pradesh Lok Sabha Elections 2019 News Updates, Uttar Pradesh Parliamentary Constituency details 2019, Lalganj MP, Issues Political Analysis 2019: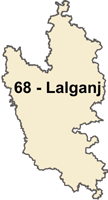 About the Constituency:
The Lalganj Lok Sabha Constituency (constituency number 68) consists of 1,509,536 number of electorates in totality, of these 810,708 are males and 698,828 are females as the Election commission of India 2009 data suggests. It was formed in 1962 and is reserved for the SC category.
Assembly Segments:
The Parliamentary Constituency of Lalganj is one of the 80 Lok Sabha constituencies of the state of Uttar Pradesh and it presently comprises of five Vidhan Sabha segments.
Names of Assembly Constituencies

Atrauliya

Nizamabad

Phoolpur-Pawai

Didarganj

Lalganj (SC)
About Lalganj:
It was formed in 1962 and is reserved for the SC category. Lalganj is a nagar panchayat with 50 village panchayats under it in the Raebareli district of UP which is a part of the Lucknow Division. It is located roughly in the center of the state at an average elevation of 142 meters. Hindi is the official language of Lalganj with Awadhi being widely spoken by the locals. Lalganj has a rail coach factory situated in the city that contributes to the economy of the town. Moradabad has a number of notable schools and colleges, both government and private. NH-7 and NH-232 are the National Highways passing through the area.
Demography:
According to the census data of 2001, Lalganj has a total population of 21,135 of which 52% are males and 48% are females. It has a sex ratio of 941 females per 1000 males. 13% of the population is below the age of six. The city of Lalganj has an average literacy rate of 72% with male literacy at 78% and female literacy at 65%.
Present Political Scenario:
It's BJP Versus BSP in the region
Neelam Sonkar has once again been given the BJP ticket to take on BSP's Baliram. Sonkar who had lost the previous encounter by less than 40k votes .