Kairana Uttar Pradesh Parliamentary Constituency 2019, Kairana Lok Sabha Constituency Details, Political News Kairana, Uttar Pradesh Lok Sabha Elections 2019 News Updates, Uttar Pradesh Parliamentary Constituency details 2019, Kairana MP, Issues Political
Details

Parent Category: Political News
Last Updated:

Tuesday, 29 January 2019 11:51
Kairana Uttar Pradesh Parliamentary Constituency 2019, Kairana Lok Sabha Constituency Details, Political News Kairana,Uttar Pradesh Lok Sabha Elections 2019 News Updates, Uttar Pradesh Parliamentary Constituency details 2019, Kairana MP, Issues Political Analysis 2019: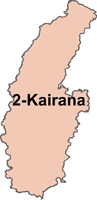 About the Constituency:
Kairana Lok Sabha Constituency is one of Uttar Pradesh's 80 parliamentary constituencies. The Kairana Parliamentary constituency (constituency number 2) has a total of 1,282,551 electorates out of which 577,614 are females and 704,937 are males according to Election Commission of India 2009 reports.
Assembly Segments:
Formed prior to the elections of the year 1962, there are five Vidhan Sabha segments under it.
Names of Assembly Constituencies

Nakur

Gangoh

Kairana

Thana Bhawan

Shamli
About Kariana:
Previously a tehsil of the Muzaffarnagar, Kairana is now located in the Shamli District under the Saharanpur Division. The city has an average altitude of 240 meters and lies on the border of the state on the banks of the River Yamuna. It is located at a distance of 23 km from Panipat. The infamous Kairana Gharana, a renowned school for Indian Classical Music, is located here. A handful of schools and colleges are also situated here. The Uttar Pradesh State Highway, SH-12 passes through this area connecting it to other cities.
Demographic Pattern:
As per the 2001 India census data, the city has a total population of 73,046 of which males and females comprise of 53% and 47% respectively. With about 22% of the population being under the age of six, the sex ratio here is above 850 females per 1000 males. Muslims have a 70% majority here. The average literacy rate of Kairana is far below the national average at just 29% with male literacy rate of 36% and female literacy rate of just 22%.
Present Political Scenario:
Again the choice was simply clear, Hukum Singh, the sitting MLA and a towering Gujjar leader who was seen as playing a major role in not only keeping the Hindus united but also calming the nerves by talking peace during the Muzaffarnagar riots. This should again give BJP an easy victory here.