Gorakhpur Uttar Pradesh Parliamentary Constituency 2019, Gorakhpur Lok Sabha Constituency Details, Political News Gorakhpur, Uttar Pradesh Lok Sabha Elections 2019 News Updates, Uttar Pradesh Parliamentary Constituency details 2019, Gorakhpur MP, Issues P
Details

Parent Category: Political News
Last Updated:

Friday, 25 January 2019 12:46
Gorakhpur Uttar Pradesh Parliamentary Constituency 2019, Gorakhpur Lok Sabha Constituency Details, Political News Gorakhpur,Uttar Pradesh Lok Sabha Elections 2019 News Updates, Uttar Pradesh Parliamentary Constituency details 2019, Gorakhpur MP, Issues Political Analysis 2019: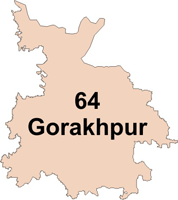 About the Constituency:
The Parliamentary Constituency of Gorakhpur is one of the 80 Lok Sabha constituencies of the state of Uttar Pradesh. The total number of electorates in the Gorakhpur Lok Sabha Constituency (constituency number 64) according to Election Commission of India 2009 reports are 1,696,474 of which 550 are 945,962 and 750,512 are females. and according to 2004 data, the number of electorates is 1,432,002
Assembly Segments:
It was formed in 1952, has five legislative assembly segments.
About Gorakhpur:
The administrative headquarters of Gorakhpur district is situated in the religious city of Gorakhpur. It is located in the eastern part of the state near the border with Nepal. Situated on the banks of the rivers Rapti and Rohani, this town lies at an average elevation of 89 meters. Hindi is the official language of Gorakhpur.
Present Political Scenario:
Dominance of BJP
Yogi Adityanath has improved his victory margin from 1.5 lakhs in 2004 to 2 lakh+ in 2009.