Gautam Buddha Nagar Uttar Pradesh Parliamentary Constituency 2019, Gautam Buddha Nagar Lok Sabha Constituency Details, Political News Gautam Buddha Nagar, Uttar Pradesh Lok Sabha Elections 2019 News Updates, Uttar Pradesh Parliamentary Constituency detail
Details

Parent Category: Political News
Last Updated:

Thursday, 24 January 2019 12:15
Gautam Buddha Nagar Uttar Pradesh Parliamentary Constituency 2019, Gautam Buddha Nagar Lok Sabha Constituency Details, Political News Gautam Buddha Nagar,Uttar Pradesh Lok Sabha Elections 2019 News Updates, Uttar Pradesh Parliamentary Constituency details 2019, Gautam Buddha Nagar MP, Issues Political Analysis 2019: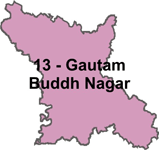 About the Constituency:
The Parliamentary Constituency of Gautam Buddha Nagar is one of the 80 Lok Sabha constituencies of the state of Uttar Pradesh which was formed post the 2008 implementation of the delimitation of parliamentary constituencies. The Gautam Buddha Nagar Lok Sabha Constituency (constituency number 13) consists of 1,522,397 number of electorates in totality, of these 845,201 are males and 677,196 are females as the Election commission of India 2009 data suggests.
Assembly Segments:
Names of Assembly Constituencies

Noida

Dadri

Jewar

Sikandrabad

Khurja (SC)
About Gautam Buddha Nagar:
It presently comprises of five Vidhan Sabha segments one of which is reserved for the SC category. The administrative headquarters of this district is situated in the city of Greater Noida. Gautam Buddha Nagar covers an area of 1,282 sq. km. and is separated from Delhi and Faridabad District by the river Yamuna. Hindi is the official language of this district. The economy of this district is primarily dependent on the various industries present here. Here, there is a promising number of notable schools and colleges, both government and private. This district has a well-established network of roads with National Expressway 2 passing through the area.
Demography:
According to the census data of 2011, Gautam Buddha Nagar has a total population of 1,648,115 of which 53% are males and 47% are females. It has a sex ratio of 851 females per 1000 males and 14.96% of the population is below the age of six. The district has an average literacy of 80.12% with male literacy at 88.06% and female literacy at 70.82%.
Present Political Scenario:
BSP won the seat by a narrow margin
BJP had lost Gautam Buddh Nagar narrowly last time by 15 thousand votes.