Firozabad Uttar Pradesh Parliamentary Constituency 2019, Firozabad Lok Sabha Constituency Details, Political News Firozabad, Uttar Pradesh Lok Sabha Elections 2019 News Updates, Uttar Pradesh Parliamentary Constituency details 2019, Firozabad MP, Issues P
Details

Parent Category: Political News
Last Updated:

Thursday, 24 January 2019 13:10
Firozabad Uttar Pradesh Parliamentary Constituency 2019, Firozabad Lok Sabha Constituency Details, Political News Firozabad,Uttar Pradesh Lok Sabha Elections 2019 News Updates, Uttar Pradesh Parliamentary Constituency details 2019, Firozabad MP, Issues Political Analysis 2019: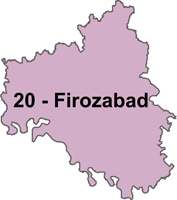 About the Constituency:
One of the 80 Lok Sabha Constituencies of Uttar Pradesh, Firozabad Parliamentary Constituency was formed before the 1957 elections. 1,422,243 is the total electorate count in the Firozabad Lok Sabha Constituency (constituency number 20). Out of these 782,455 number of electorates are males and the remaining 639,788 are belong to the female category as the Election commission of India 2009 reports suggest.
About Firozabad:
It comprises of five Vidhan Sabha segments one of which is reserved for the SC category. The constituency covers the whole district of Firozabad which covers an area of 2,362 sq km. The district belongs to the Agra Division with its headquarters located in the city of Firozabad. The average elevation is 165 m and it is located to the west of River Yamuna. The area has several Jain temples and is also home to the oldest mosque of the country, Jama Masjid. The National Highway NH-2 links it to an extensive road network.
Demographic pattern:
As per India census data 2011, the district has a population of 2,496,761 with a 52% male majority and 48% of females. It is the 173rd most populated district of the country. Over the decade of 2001-2011, the population growth rate was 21.62% and the population density here is 1,044 inhabitants per sq km. Children constitute 15.30% of the population and the sex ratio here is 875 females per 1000 males. The average literacy rate here is 71.92% with male and female literacy rates at 80.82% and 61.75% respectively.
Present Political Scenario:
May turn out to be a tough contest
Firozabad, three time MP, S.P Singh Baghel has been nominated by BJP, but he may face a very tough battle against Akshay Yadav, Mulayam's nephew and son of Ram Gopal Yadav.