Deoria Uttar Pradesh Parliamentary Constituency 2019, Deoria Lok Sabha Constituency Details, Political News Deoria, Uttar Pradesh Lok Sabha Elections 2019 News Updates, Uttar Pradesh Parliamentary Constituency details 2019, Deoria MP, Issues Political Ana
Details

Parent Category: Political News
Last Updated:

Tuesday, 29 January 2019 18:19
Deoria Uttar Pradesh Parliamentary Constituency 2019, Deoria Lok Sabha Constituency Details, Political News Deoria,Uttar Pradesh Lok Sabha Elections 2019 News Updates, Uttar Pradesh Parliamentary Constituency details 2019, Deoria MP, Issues Political Analysis 2019: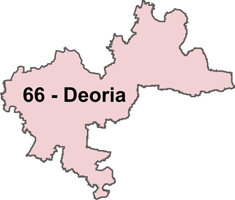 About the Constituency:
According to Election Commission of India 2009 data the total electorates in the Deoria Parliamentary constituency (constituency number 66) were 1,580,745 of which 720,522 are females and 860,223 are males.
Assembly Segments:
One of the 80 Lok Sabha constituencies of Uttar Pradesh, the constituency of Deoria was formed prior to the 1952 constituency elections and currently comprises of five Vidhan Sabha segments.
Names of Assembly Constituencies

Tamkuhi Raj

Fazilnagar

Deoria

Pathardeva

Rampur Karkhana
About Deoria:
The city of Deoria is the headquarters of the Deoria District and belongs to the administrative division of Gorakhpur. The total area of the district is 2,535 sq km and it has an elevation of 68 m and is about 50 km away from Gorakhpur. It has a total population of over 3,100,000 of which about 1,537,000 are males and about 1,563,000 are females.There are several schools and colleges located here. It has an extensive network of roads and railways.
Demography:
It has a sex ratio of 1017 females per 1000 males and a child population of 464,516. Hindi, Bhojpuri, English and Urdu are the commonly used languages.
The population growth over 2001-2011 has been 14.23%. With an average literacy rate of 71.13%, the district of Deoria has a male literacy rate of 83.27% and a female literacy rate of 59.38%. It is India's 114th most populated district and has a population density of 1,220 people per sq km.
Present Political Scenario:
What BJP needs to do?
Lot depends on how much support Kalraj Mishra will get from the local leaders of the BJP, especially the likes of two-time MP Prakashmani Tripathi and Surya Pratap Shahi. If BJP leaders and workers bury their differences (especially along Thakur-Brahmin fault-lines) then this is a sure-shot seat for the party, or else BJP will have to struggle to cross the finish line.