Bansgaon Uttar Pradesh Parliamentary Constituency 2019, Bansgaon Lok Sabha Constituency Details, Political News Bansgaon, Uttar Pradesh Lok Sabha Elections 2019 News Updates, Uttar Pradesh Parliamentary Constituency details 2019, Bansgaon MP, Issues Polit
Details

Parent Category: Political News
Last Updated:

Friday, 25 January 2019 13:02
Bansgaon Uttar Pradesh Parliamentary Constituency 2019, Bansgaon Lok Sabha Constituency Details, Political News Bansgaon,Uttar Pradesh Lok Sabha Elections 2019 News Updates, Uttar Pradesh Parliamentary Constituency details 2019, Bansgaon MP, Issues Political Analysis 2019: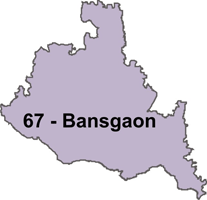 About the Constituency:
One of Uttar Pradesh's parliamentary constituencies, Bansgaon Lok Sabha Constituency was formed before 1957 and is reserved for the SC category. The Bansgaon Parliamentary constituency (constituency number 67) has a total of 1,663,648 electorates out of which 751,928 are females and 911,720 are males according to Election Commission of India 2009 reports.
Assembly Segments:
It has five Vidhan Sabha segments.
Names of Assembly Constituencies

Chauri-Chaura

Bansgaon (SC)

Chillupar

Rudrapur

Barhaj
About Bansgaon:
Bansgaon is a town and Nagar Panchayat of Gorakhpur District and has an average elevation. Basic education facilities include several municipal schools and a handful of colleges. Economically, it falls under one of India's 250 most backward districts and receives funds from the Backward Regions Grant Fund Programme. Agriculture is the most common activity of the people here. The National Highways NH-28 and NH-29 pass through the district and connect it to an extensive road network. vation of 68 m. It is 299 km away from Kanpur and 533 km away from Agra.
Demography:
According to the India census data of 2001, the population of Bansgaon is over 14,000 with 51% of the population is male and 49% is female. Over 17% of the population is under six years and the sex ratio is 944 females per 1000 males. The average literacy rate here is 59% with male and female literacy rates at 59% and 41%. Hindi, Bhojpuri and Urdu are the most commonly used languages in the area.
Present Political Scenario:
Strong influence of Yogi Adityanath in the region
This is again one of the strength areas of BJP where Yogi Adityanath wields influence and Kamlesh Paswan, the sitting BJP MP, has made his own in the last few years.