Baghpat Uttar Pradesh Parliamentary Constituency 2019, Baghpat Lok Sabha Constituency Details, Political News Baghpat, Uttar Pradesh Lok Sabha Elections 2019 News Updates, Uttar Pradesh Parliamentary Constituency details 2019, Baghpat MP, Issues Political
Details

Parent Category: Political News
Last Updated:

Thursday, 24 January 2019 11:37
Baghpat Uttar Pradesh Parliamentary Constituency 2019, Baghpat Lok Sabha Constituency Details, Political News Baghpat,Uttar Pradesh Lok Sabha Elections 2019 News Updates, Uttar Pradesh Parliamentary Constituency details 2019, Baghpat MP, Issues Political Analysis 2019: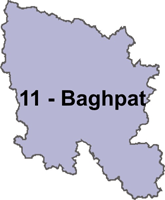 About the Constituency:
Baghpat is one of the 80 Lok Sabha constituencies of Uttar Pradesh, formed before the elections of the year 1967 and comprises of six General Vidhan Sabha segments. According to Election Commission of India 2009 data the total electorates in the Baghpat Parliamentary constituency (constituency number 11) were 1,280,602 of which 556,270 are females and 724,332 are males.
Assembly Segments:
Names of Assembly Constituencies

Siwalkhas

Chhaprauli

Baraut

Baghpat

Modi Nagar
About Baghpat:
The city of Baghpat is the headquarters of the district of Baghpat and is located on the banks of Yamuna River at a distance of 70 kms from Delhi and 52 kms from the city of Meerut. The district of Baghpat covers a total area of over 1,300 sq kms and has an average elevation of 253 metres. Education wise, the city houses the prominent institute of Janta Vedic College known for its courses on agriculture. Agriculture is the primary economic activity here and crops of sugarcane and wheat are cultivated here. The Delhi-Sharanpur Highway passes through this city.
Demographic pattern:
As per 2001 census data, Baghpat city had a population of over 36,000 of which 53% comprised of males and 47% of females. The district of Baghpat has a population of over 13,00,000 as per 2011 census data. About 13% of the total population is under the age of six and the sex ratio is 858. With an average literacy rate of 66%, the city has a male literacy rate of 82% and a female literacy of 58%. Culturally, Hindus have a 75% majority while Muslims, Buddhists, Jains and Christians also reside here.
Present Political Scenario:
History has shown us that usually it is the members of educated civil society who stand a better chance against established names in difficult electoral contests.

Why Ajit Singh may regain the lost ground?
Although Ajit Singh was on a back-foot after Muzaffarnagar, he seems to have regained some of the lost ground due to Jat reservation and Rakesh Tikait's joining of RLD.
Key Assembly segments:
Modi Nagar, Baghpat town and Siwal Khas assembly segments probably hold the key this time around..