Aligarh Uttar Pradesh Parliamentary Constituency 2019, Aligarh Lok Sabha Constituency Details, Political News Aligarh, Uttar Pradesh Lok Sabha Elections 2019 News Updates, Uttar Pradesh Parliamentary Constituency details 2019, Aligarh MP, Issues Political
Details

Parent Category: Political News
Last Updated:

Thursday, 24 January 2019 12:37
Aligarh Uttar Pradesh Parliamentary Constituency 2019, Aligarh Lok Sabha Constituency Details, Political News Aligarh,Uttar Pradesh Lok Sabha Elections 2019 News Updates, Uttar Pradesh Parliamentary Constituency details 2019, Aligarh MP, Issues Political Analysis 2019: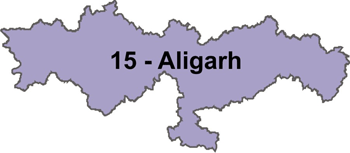 About the Constituency:
Aligarh Parliamentary Constituency is one of the 80 Lok Sabha constituencies of the state of Uttar Pradesh. 1,345,351 is the total electorate count in the Aligarh Lok Sabha Constituency (constituency number 15). Out of these 744,060 number of electorates are males and the remaining 601,291 are belong to the female category as the Election commission of India 2009 reports suggest.
Assembly Segments:
It was formed before the 1952 elections and has five Vidhan Sabha segments.
Names of Assembly Constituencies

Khair (SC)

Barauli

Atrauli

Koil

Aligarh
About Aligarh:
Aligarh city is the centre of administration of the district and the division. The city witnessed The Battle of Aligarh of the Second Anglo-Maratha War. Lying about 290 kms away from Kanpur between Ganges and Yamuna, it sprawls over a total area of over 3,700 sq kms. It stands at an elevation of 180 metres and is 140 kms away from New Delhi. The city has several schools, both public and private. It is home to the world renowned Aligarh Muslim University which has over 300 courses, both traditional and modern with over 30,000 students. The city is a centre for agricultural trade and is renowned for its lock industry. It is connected to several major cities via the Grand Trunk Road.
Demographic Pattern:
It has a population of about 13,00,000 with 52% male majority. About 62% of the population is Hindu with Muslims and Jains also living here. The city has a sex ratio of 861 females per 1,000 males.
Present Political Scenario:
It is likely to be a two corner fight between Congress and BSP