Agra Uttar Pradesh Parliamentary Constituency 2019, Agra Lok Sabha Constituency Details, Political News Agra, Uttar Pradesh Lok Sabha Elections 2019 News Updates, Uttar Pradesh Parliamentary Constituency details 2019, Agra MP, Issues Political Analysis 20
Details

Parent Category: Political News
Last Updated:

Thursday, 24 January 2019 13:01
Agra Uttar Pradesh Parliamentary Constituency 2019, Agra Lok Sabha Constituency Details, Political News Agra,Uttar Pradesh Lok Sabha Elections 2019 News Updates, Uttar Pradesh Parliamentary Constituency details 2019, Agra MP, Issues Political Analysis 2019: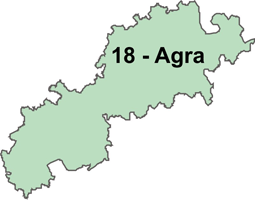 About the Constituency:
With a total of 647,090 voters as per as 2009 elections, Agra is one of the parliamentary constituencies of the state of Uttar Pradesh. The Agra Lok Sabha Constituency (constituency number 18) consists of 1,539,683 number of electorates in totality, of these 856,239 are males and 683,444 are females as the Election commission of India 2009 data suggests.
Assembly Segments:
It was formed in 1952 and has five Vidhan Sabha segments with two of them being reserved for the SC category.
Names of Assembly Constituencies

Etmadpur

Agra Cantonment (SC)

Agra South

Agra North

Jalesar (SC)
About Agra:
The city of Agra is the district headquarters of the Agra district and is located on the banks of River Yamuna at a distance of 363 km from Lucknow and 200 km from New Delhi. Agra is home to the exquisite Taj Mahal and has a metropolitan area of 1,880.40 sq km and an elevation of over 170 m. The city has been an important center of Islamic education since the Mughal era and presently houses several important institutions. Tourism, agriculture and jewelry are the prime industries here. NH-2, NH-3, NH-11 and NH-93 pass through the city.
Demography:
According to 2011 India Census data, the city has a total population of 1,775,134 with 53% consisting of males and 47% consisting of females. The child population comprises of 11% of the total while the sex ratio is 868 females per 1000 males. There is an 82.1% Hindu majority followed by 15% Muslims. The average literacy rate of Agra is 81% with 86% male and 66% female literacy rate rates.
Present Political Scenario:
Sitting MP of BJP, Dr Ramashankar Katheriya has been re- nominated.

Decisive Assembly Segments:
Etmadpur and Jalesar assembly segments may turn out to be a decisive factor

Key Assembly Segment
Jalesar holds the key for S.P. Singh Baghel