Varanasi Uttar Pradesh Parliamentary Constituency 2019, Varanasi Lok Sabha Constituency Details, Political News Varanasi, Uttar Pradesh Lok Sabha Elections 2019 News Updates, Uttar Pradesh Parliamentary Constituency details 2019, Varanasi MP, Issues Polit
Details

Parent Category: Political News
Last Updated:

Tuesday, 29 January 2019 18:20
Varanasi Uttar Pradesh Parliamentary Constituency 2019, Varanasi Lok Sabha Constituency Details, Political News Varanasi,Uttar Pradesh Lok Sabha Elections 2019 News Updates, Uttar Pradesh Parliamentary Constituency details 2019, Varanasi MP, Issues Political Analysis 2019: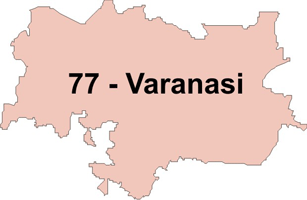 About the Constituency:
One of the 80 constituencies of Uttar Pradesh, Varanasi belongs to the Varanasi district. The Varanasi Parliamentary constituency (constituency number 77) has a total of 1,561,854 electorates out of which 694,209 are females and 867,645 are males according to Election Commission of India 2009 reports.
Assembly Segments:
Names of Assembly Constituencies

Rohaniya

Varanasi North

Varanasi South

Varanasi Cantonment

Sevapuri
About Varanasi:
It is one of the oldest continuously inhabited cities in the world and is oldest in India. The city lies on the banks of the River Ganges in Uttar Pradesh, 320 kms away from Lucknow.
Demography:
It has a population of over 12,00,000 with 53% male majority. It has a sex ratio of 879 females per 1,000 males. Hindi is the official and the most widely spoken language while English and Urdu are prevalent as well. Over 86% of the population is Hindu, while Muslims, Buddhists, Jains and Christians also reside here.
Present Political Scenario:
Why it is a high voltatge Constituency?
Narendra Bhai Damodardas Modi, BJP's prime-ministerial candidate, will be contesting from the oldest city of the world. BJP has three sitting MLAs in Varanasi North, South and Cantonment assembly segments.

How Caste Arithmetic may go in favour of Modi?
Which have total voters of about 12 lakh plus. Assuming 60% voting at least, roughly 7 lakh Varanasi city voters (of all the three assembly segments) should go out to vote on the 12th of May as Varanasi will go to polls on the last day of polling.
There are roughly 7 lakh voters in the two other Kurmi dominated assembly segments of Rohaniya and Sevapuri.
The Kurmis, like any other OBCs in the heartland have tremendous goodwill for Namo.