Salempur Uttar Pradesh Parliamentary Constituency 2019, Salempur Lok Sabha Constituency Details, Political News Salempur, Uttar Pradesh Lok Sabha Elections 2019 News Updates, Uttar Pradesh Parliamentary Constituency details 2019, Salempur MP, Issues Polit
Details

Parent Category: Political News
Last Updated:

Friday, 25 January 2019 15:01
Salempur Uttar Pradesh Parliamentary Constituency 2019, Salempur Lok Sabha Constituency Details, Political News Salempur,Uttar Pradesh Lok Sabha Elections 2019 News Updates, Uttar Pradesh Parliamentary Constituency details 2019, Salempur MP, Issues Political Analysis 2019: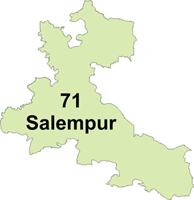 About the Constituency:
According to Election Commission of India 2009 data the total electorates in the Salempur Parliamentary constituency (constituency number 71) were 1,621,136 of which 748,335 are females and 872,801 are males.
Assembly Segments:
Salempur Parliamentary Constituency is one of the 80 constituencies of Uttar Pradesh formed in 1957 and has five Vidhan Sabha segments of which two are reserved for the SC category.
Names of Assembly Constituencies

Bhatpar Rani

Salempur (SC)

Belthara Road (SC)

Sikanderpur

Bansdih
About Salempur:
The town of Salempur is located towards the eastern side of the state and is a nagar panchayat of the Deoria District. It is 143 km from Varanasi and 206 km from Kathmandu.
Demography:
As per 2001 India Census, the city of Salempur has a population of 16,906 of which male and female population of 52% and 48% respectively. 16% of the population is below the age of six and the sex ratio here is 1013 females per 1000 males. The city has an average literacy rate of 65% with male literacy rate of 74% and female literacy rate of 56%.
Present Political Scenario:
Strategical move by BJP
Ravindra Kushwaha has been given the party ticket from this Kushwaha dominated seat in a strategically brilliant move, for he happens to be the son of Hari Kewal Sharma, a four time Samajwadi Party MP from Salempur. Former PM, Chandrashekhar's son Pankaj Shekhar was eyeing this seat, but BJP seems to have kept only winnability as the criteria in deciding the candidature.