Mohanlalganj Uttar Pradesh Parliamentary Constituency 2019, Mohanlalganj Lok Sabha Constituency Details, Political News Mohanlalganj, Uttar Pradesh Lok Sabha Elections 2019 News Updates, Uttar Pradesh Parliamentary Constituency details 2019, Mohanlalganj
Details

Parent Category: Political News
Last Updated:

Tuesday, 29 January 2019 17:36
Mohanlalganj Uttar Pradesh Parliamentary Constituency 2019, Mohanlalganj Lok Sabha Constituency Details, Political News Mohanlalganj,Uttar Pradesh Lok Sabha Elections 2019 News Updates, Uttar Pradesh Parliamentary Constituency details 2019, Mohanlalganj MP, Issues Political Analysis 2019: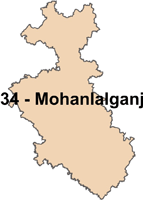 About the Constituency:
Located about 20 km away from the city of Lucknow, the parliamentary constituency of Mohanlalganj is one of Uttar Pradesh's 80 Lok Sabha constituencies. The total number of electorates in the Mohanlalganj Lok Sabha Constituency (constituency number 34) according to Election Commission of India 2009 reports are 1,500,237 of which 804,961 are males and 695,276 are females.
Assembly Segments:
It is reserved for the SC category and has five Vidhan Sabha segments.
Names of Assembly Constituencies

Sidhauli (SC)

Malihabad (SC)

Bakshi Kaa Talab

Sarojini Nagar

Mohanlalganj (SC)
About Mohanlalganj:
The tehsil has basic educational facilities and several public schools have been established over the years. Agriculture is the primary occupation with vegetables and fruits being grown here. Several small scale industries and trade also boost the economy. The National Highway NH-24B passes through here making it an essential part of the road network.
Demography:
The constituency spreads mainly over the tehsil of Mohanlalganj as well as the one seat of the Sitapur District. The tehsil of Mohanlalganj belongs to the Lucknow District and has a total population of 406,696 of which male and female population is 213,815 and 192,881 respectively. Awadhi, Urdu and Hindi are widely spoken around this area. The district has a sex ratio of 906 females for every 1000 males and an average literacy rate of 80%..
Present Political Scenario:
Stronghold of Samajwadi Party
This reserved constituency is a stronghold of the SP, which has re-nominated its sitting MP, Sushila Saroj and BJP has simply shown no "thinking out of the box" by nominating ex-MLA Kaushal Kishore who stands little chance of upsetting the Samajwadi applecart.