Hardoi Uttar Pradesh Parliamentary Constituency 2019, Hardoi Lok Sabha Constituency Details, Political News Hardoi, Uttar Pradesh Lok Sabha Elections 2019 News Updates, Uttar Pradesh Parliamentary Constituency details 2019, Hardoi MP, Issues Political Ana
Details

Parent Category: Political News
Last Updated:

Thursday, 24 January 2019 15:47
Hardoi Uttar Pradesh Parliamentary Constituency 2019, Hardoi Lok Sabha Constituency Details, Political News Hardoi,Uttar Pradesh Lok Sabha Elections 2019 News Updates, Uttar Pradesh Parliamentary Constituency details 2019, Hardoi MP, Issues Political Analysis 2019: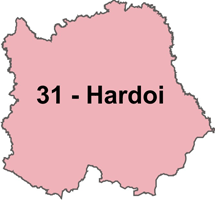 About the Constituency:
Formed prior to the 1957 elections, the parliamentary constituency of Hardoi is one of the 80 constituencies of Uttar Pradesh. According to Election Commission of India 2009 data the total electorates in the Hardoi Parliamentary constituency (constituency number 31) were 1,416,949 of which 633,185 are females and 783,764 are males.
Assembly Segments:
It is reserved for the SC category and comprises of five Vidhan Sabha segments.
Names of Assembly Constituencies

Sawayazpur

Shahabad

Hardoi

Gopamau (SC)

Sandi (SC)
About Hardoi
It represents the Hardoi Distict which is under the Lucknow Division with the headquarters located in Hardoi City and covers an area of over 5980 sq km. It has 5 tehsils and consists of over 2000 villages. The Sandi Bird Sanctuary is located here.
Demographic pattern:
As per 2011 census, it has a population of 4,092,842 of which 2,191,242 are males and 1,901,403 are females. The district has a population growth rate of 20.44% and a population density of 684 per sq km. The sex ratio is 868 females for every 1000 males and a child population of 652,496. The average literacy rate is 64.57% with male and female literacy rates of 74.39% and 53.19%.
Present Political Scenario:
Samajwadi Party advantage
Usha Verma of the Samajwadi Party, who is also the sitting MP, has strong pockets of influence in this parliamentary seat and also there are hardly any negatives against her, so SP has a clear advantage.