Basti Uttar Pradesh Parliamentary Constituency 2014, Basti Lok sabha Contituency Details, Political News Basti, Uttar Pradesh Lok Sabha Elections 2014 News Updates, Uttar Pradesh Parliamentary Constituency details 2014, Basti MP, Issues Political Analysis
Details

Parent Category: Political News
Last Updated:

Thursday, 22 January 2015 20:55
Basti Uttar Pradesh Parliamentary Constituency 2014, Basti Lok sabha Contituency Details, Political News Basti, Uttar Pradesh Lok Sabha Elections 2014 News Updates, Uttar Pradesh Parliamentary Constituency details 2014, Basti MP, Issues Political Analysis 2014: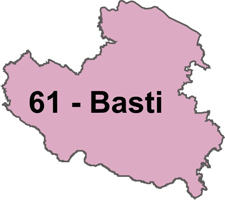 About the Constituency:
According to Election Commission of India 2009 data the total electorates in the Basti Parliamentary constituency (constituency number 61) were 1,570,657 of which 703,721 are females and 866,936 are males.
Assembly Segments:
Names of Assembly Constituencies

Harraiya

Kaptanganj

Rudhauli

Basti Sadar

Mahadewa (SC)
About Basti:
The administrative headquarters of Basti district is situated in the city of Basti. The district covers an area of 7,309 sq. km. and is located roughly in the north-eastern part of the state. Hindi is the official language of Basti with local dialects of Awadhi and Bhojpuri being widely spoken in different parts.
Demographic pattern:
According to the census data of 2011, Basti has a total population of 114,651 of which 53% are males and 47% are females. It has a sex ratio of 907 females per 1000 males. 12% of the population is below the age of six. The city of Basti has an average literacy of 82.47% with male literacy at 88% and female literacy at 76%.
Present Political Scenario:
A Tough seat for BJP altogether
This is one of the baffling decisions of the party, for Harish Dwivedi, who had not only lost the 2012 assembly election from Basti town by a margin of over 20k, but had also finished 3rd has been given BJP ticket. This is a seat which is usually given to Thakurs.