Ballia Uttar Pradesh Parliamentary Constituency 2019, Ballia Lok Sabha Constituency Details, Political News Ballia, Uttar Pradesh Lok Sabha Elections 2019 News Updates, Uttar Pradesh Parliamentary Constituency details 2019, Ballia MP, Issues Political Ana
Details

Parent Category: Political News
Last Updated:

Friday, 25 January 2019 15:07
Ballia Uttar Pradesh Parliamentary Constituency 2019, Ballia Lok Sabha Constituency Details, Political News Ballia,Uttar Pradesh Lok Sabha Elections 2019 News Updates, Uttar Pradesh Parliamentary Constituency details 2019, Ballia MP, Issues Political Analysis 2019: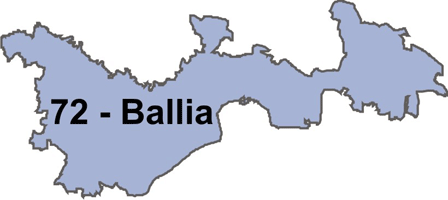 About the Constituency:
One of the 80 Lok Sabha constituencies, Ballia came into being before the elections of 1952 and consists of five legislative segments. The Ballia Parliamentary constituency (constituency number 72) has a total of 1,679,029 electorates out of which 756,234 are females and 922,795 are males according to Election Commission of India 2009 reports.
Assembly Segments:
Names of Assembly Constituencies

Phephana

Ballia Nagar

Bairia

Zahoorabad

Mohammadabad
About Ballia:
The city of Ballia is the headquarters if the Ballia district and is located at the junction of Ganges and Ghaghara rivers. Situated about 135 km from Varanasi, the city has an elevation of 160 m and the district sprawls over a total area of 1,981 sq km. It is the 108thto 3,223,642 people and a growth rate of 17.31%. The city has a population is 111,287.
Demographic pattern:
About 51% of the district population is male and the rest 49% is female and about 14% comprises of children below the age of six. Hindus consider this city to be holy and the infamous Bhrigu Temple is located here. The average literacy rate is 71% with male literacy rate of 81.49% and female literacy rate of 59.75%. The sex ratio is 937 females for 1000 males. Languages of Bhojpuri, Hindi, English and Urdu are used here.
Present Political Scenario:
Strong Candidature
This is a seat where Neeraj Shekhar (former PM Chandrashekhar's son) still holds sway and it is unlikely that he would be defeated this time too.
BJP has an outside chance here
Bharat Singh is again one of those who is part of the "deadwood" of the BJP who had lost even the assembly election in 2012 by a big margin.