Azamgarh Uttar Pradesh Parliamentary Constituency 2019, Azamgarh Lok Sabha Constituency Details, Political News Azamgarh, Uttar Pradesh Lok Sabha Elections 2019 News Updates, Uttar Pradesh Parliamentary Constituency details 2019, Azamgarh MP, Issues Polit
Details

Parent Category: Political News
Last Updated:

Friday, 25 January 2019 13:14
Azamgarh Uttar Pradesh Parliamentary Constituency 2019, Azamgarh Lok Sabha Constituency Details, Political News Azamgarh,Uttar Pradesh Lok Sabha Elections 2019 News Updates, Uttar Pradesh Parliamentary Constituency details 2019, Azamgarh MP, Issues Political Analysis 2019: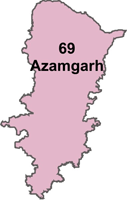 About the Constituency:
One of the 80 parliamentary constituencies of Uttar Pradesh, Azamgarh Parliamentary Constituency came into existence in 1952. The total number of electorates in the Azamgarh Lok Sabha Constituency (constituency number 69) according to Election Commission of India 2009 reports are 1,578,854 of which 853,748 are males and 725,106 are females.
Assembly Segments:
It comprises of five segments, of which one is reserved for the SC category. It is one of the two constituencies representing Azamgarh District.
Names of Assembly Constituencies

Gopalpur

Sagri

Mubarakpur

Azamgarh

Mehnagar (SC)
About Azamgarh:
The district of Azamgarh covers an area of 4,054 sq km and is located between the rivers of Ganges and Ghagahara. It has 7 tehsils and over 4,000 villages which house a total of 4,613,913 people. Females have a 52% majority while 48% comprises of males.
Demographic pattern:
It had a population growth rate of 17.11% from 2001 to 2011 and has a population density of 1,138 people per sq km. Children below the age of six occupy 15.30% of the population and the sex ratio here is 1019 females for every 1000 males. The average literacy rate of Azamgarh is 70.93% and male and female literacy rates are 81.34% and 60.91% respectively. Hindus have a 53% religious majority followed by 45% of Muslims. Hindi, Urdu, Bhojpuri and Awadhi are widely spoken by the people here.
Present Political Scenario:
Inspite of anti- incumbency among upper Caste Rajput- Mulayam Singh still the favourite.
He is still considered as "Yadavon ka sher" in Azamgarh though. There is also deep polarization among Muslims in this constituency who are backing SP to the hilt here.