Rajampet Andhra Pradesh Parliamentary Constituency 2019, Rajampet Lok Sabha Constituency Details, Political News Rajampet, Andhra Pradesh Lok Sabha Elections 2019 News Updates, Andhra Pradesh Parliamentary Constituency details 2019, Rajampet MP, Issues Po
Details

Parent Category: Political News
Last Updated on

Thursday, 24 January 2019 16:59
Rajampet Andhra Pradesh Parliamentary Constituency 2019, Rajampet Lok Sabha Constituency Details, Political News Rajampet, Andhra Pradesh Lok Sabha Elections 2019 News Updates, Andhra Pradesh Parliamentary Constituency details 2019, Rajampet MP, Issues Political Analysis 2019: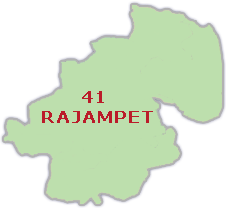 About the Constituency:
Situated in what was formerly called the Kadapa district (now the YSR district) of the state of Andhra Pradesh, the Rajampet Lok Sabha constituency is one of the 42 Parliamentary seats in the state. According to Election Commission of India 2009 data the total electorates in the Rajampet Parliamentary constituency (constituency number 41) were 1,311,449 of which 672,702 are females and 638,747 are males.
Historical Significance:
Known for its repository of mineral reserves, this constituency is famous for its mineral resources, especially lead, asbestos, baryte, and importantly, limestone. However, like 12 other districts in the state, the YSR district has been recognized as economically backward, thus being under the Backward Regions Grant Fund Programme sponsored by the government. Rajampet has as its primary tourist attractions places such as Pushpagiri, known for Chennakeswara Alayam and Puspagiri Matam; Nandaluru, known for Sowmyanatha Swamy Alayam; Porumamilla, known for the ancient and the most historical Sri Kodhanda Rama Swamy Temple; among others.
Demographic and its Background:
This district, whose administrative headquarters is Kadapa, has a total population of around 2,601,797 .It is located in the Rayalaseema region and has historically witnessed the intense struggles of the Telangana Movement.
Political Background:
A Congress stronghold since 1957, when the parliamentary constituency of Rajampet came into existence, this region is one of the most politically significant seats in the overall ambience of the country as a whole.
Significance about the Assembly Segments:
Out of the seven Assembly segments which make up this Parliamentary constituency, Kodur is reserved for candidates belonging to the Scheduled Castes.
Names of Assembly Constituencies

Rajampet

Kodur (SC)

Rayachoti

Thamballapalle

Pileru

Madanapalle

Punganur
A Look: Sitting MP
| | |
| --- | --- |
| Name of MP | Sai Prathap Annayyagari |
| Age | 69 |
| Nature of Membership | Elected |
| Term | 18-May-09 to In office |
| Political Party | Indian National Congress |
| Gender | Male |
| Educational Qualification | Under Graduate |
Performance in the 15th Lok Sabha:
| | |
| --- | --- |
| Debates participated | 1 |
| Private member bills passed | 0 |
| Questions asked | 163 |
| Attendance | 79% |