Rajahmundry Andhra Pradesh Parliamentary Constituency 2019, Rajahmundry Lok Sabha Constituency Details, Political News Rajahmundry, Andhra Pradesh Lok Sabha Elections 2019 News Updates, Andhra Pradesh Parliamentary Constituency details 2019, Rajahmundry M
Details

Parent Category: Political News
Last Updated:

Thursday, 24 January 2019 15:26
Rajahmundry Andhra Pradesh Parliamentary Constituency 2019, Rajahmundry Lok Sabha Constituency Details, Political News Rajahmundry, Andhra Pradesh Lok Sabha Elections 2019 News Updates, Andhra Pradesh Parliamentary Constituency details 2019, Rajahmundry MP, Issues Political Analysis 2019: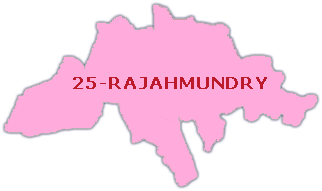 About the Constituency:
Situated in the East Godavari District in the northeast region of Andhra Pradesh, Rajahmundry is one of the 42 Lok Sabha constituencies in the state. 1,260,974 is the total electorate count in the Rajahmundry Lok Sabha Constituency (constituency number 25). Out of these 620,109 number of electorates are males and the remaining 640,865 are belong to the female category as the Election commission of India 2009 reports suggest.
Historical and Demographic Significance:
Being fed by the Godavari River, the district of East Godavari, which is known as the 'Rice Bowl of Andhra Pradesh', has abundant agriculture and aquaculture. Superior-quality crops are grown in this district, and there are some major fertilizer factories present. The East Godavari district also has a flourishing industrial sector. As many as 5,151,549 people reside in this district, making the East Godavari district the second most populous district in the state. Rajahmundry is a famous city in the district.
Assembly Segments:
The table below shows the list of all the Assembly Constituencies that fall in Rajahmundry parliamentary constituency.

Names of Assembly Constituencies

Anaparthy

Rajanagaram

Rajahmundry City

Rajahmundry Rural

Kovvur (SC)

Nidadavole

Gopalapuram (SC)
Political Background:
It has primarily been a stronghold of the Congress, although the BJP has also won a few times.
A look: Sitting MP
| | |
| --- | --- |
| Name of MP | Aruna Kumar Vundavalli |
| Age | 59 |
| Nature of Membership | Elected |
| Term | 18-May-09 to In office |
| Political Party | Indian National Congress |
| Gender | Male |
| Educational Qualification | Graduate |
Performance in the 15th Lok Sabha:
| | |
| --- | --- |
| Debates participated | 19 |
| Private member bills passed | 0 |
| Questions asked | 33 |
| Attendance | 93% |