Kadapa Andhra Pradesh Parliamentary Constituency 2014, Kadapa Lok sabha Contituency Details, Political News Kadapa , Andhra Pradesh Lok Sabha Elections 2014 News Updates, Andhra Pradesh Parliamentary Constituency details 2014, Kadapa MP, Issues Politica
Details

Parent Category: Political News
Last Updated:

Thursday, 22 January 2015 20:55
Kadapa Andhra Pradesh Parliamentary Constituency 2014, Kadapa Lok sabha Contituency Details, Political News Kadapa, Andhra Pradesh Lok Sabha Elections 2014 News Updates, Andhra Pradesh Parliamentary Constituency details 2014, Kadapa  MP, Issues Political Analysis 2014: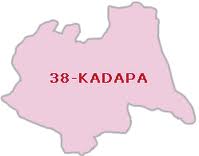 About the Constituency:
The Kadapa Parliamentary constituency, formerly known as Cuddapah, is one of the 42 Lok Sabha constituencies in the state of Andhra Pradesh. The Kadapa Lok Sabha Constituency (constituency number 38) consists of 1,347,716 number of electorates in totality, of these 655,340 are males and 692,376 are females as the Election commission of India 2009 data suggests.
Unknown facts:
Economically, this district is one of the natural mineral reserves of the country, with lead, barytes, asbestos and limestone being found in plenty in this region. Some small- and medium-scale industries are located in this district.
Significance about the Assembly Segments:
Out of the seven Assembly segments which comprise this constituency, Badvel is reserved for candidates of the Scheduled Castes.
The table below shows the list of all the Assembly Constituencies that fall in Kadapa parliamentary constituency.
Names of Assembly Constituencies

Badvel(SC)

Kadapa

Pulivendla

Kamalapuram

Jammalamadugu

Proddatur

Mydukur
Strong Political Presence:
This constituency, which held its first Lok Sabha elections in 1952, remained a stronghold of the Communist Party of India in its formative years, before becoming a vote-bank bastion of the Congress. This seat is very important politically, as the influential leader and proponent of anti-Telangana movements, Y.S. Jagan Mohan Reddy, was elected from here. Reddy, who formed the YSR Congress Party after splitting from the Indian National Congress, is known for his strong adherence to a united Andhra Pradesh. This constituency is part of the YSR district, which has the city of Kadapa as its administrative headquarters. The YSR district has a rich and varied political history, witnessing massive anti-Telangana campaigns.
A Look: Sitting MP
| | |
| --- | --- |
| Name of MP | Y. S. Jagan Mohan Reddy |
| Age | 41 |
| Nature of Membership | Elected |
| Term | 13-May-11 to In office |
| Political Party | Yuvajana Sramika Rythu Congress Party |
| Gender | Male |
| Educational Qualification | Graduate |
Performance in the 15th Lok Sabha:
| | |
| --- | --- |
| Debates participated | 2 |
| Private member bills passed | 0 |
| Questions asked | 0 |
| Attendance | 32% |