Tirrupur Parliamentary Constituency 2019, Tirrupur Lok Sabha Constituency Details, Political News Tirrupur, Tamil Nadu Lok Sabha Elections 2019 News Updates, Tamil Nadu Parliamentary Constituency details 2019, Tirrupur MP Issues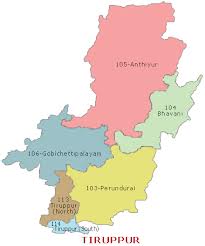 About Tirrupur:
Formed post the Presidential notification of the delimitation of parliamentary constituencies of 2008, Tiruppur is one of Tamil Nadu's 39 parliamentary constituencies. 993,758 is the total electorate count in the Tiruppur Lok Sabha Constituency (constituency number 17). Out of these 508,808 number of electorates are males and the remaining 484,950 are belong to the female category as the Election commission of India 2009 reports suggest. It has six Vidhan Sabha segments and constitutes of 993,758 voters.
Assembly Segments:
Names of Assembly Constituencies

Perundurai

Bhavani

Anthiyur

Gobichettipalayami

Tiruppur (North)

Tiruppur (South)
About Tirrupur:
It represents the Tiruppur District which is located in the western region of the state with its headquarters in the city of Tiruppur. Sprawling over an area of 5,190 sq km, it has a population of 2,479,052.
With a population density of 478 inhabitants per sq km, it had a growth rate of over 29% from 2001 to 2011 making it the 176th most populated district of India. The sex ratio is 989 females per 1000 males, with almost 10% of the total population being under the age of six. The average literacy rate of the district is 79%, male and female literacy rates at 86% and 72%. Over 61% of the population is urban. Tourism and agriculture are the primary industries here with a very developed textile industry. Several wildlife preservation centers are located here including a crocodile park. The State Highways SH-19, SH-169, SH-172 and SH-174 pass through the district and connects it to a large road network.
A Look: Sitting MP
| | |
| --- | --- |
| Name of MP | C. Sivasami |
| Age | 56 |
| Nature of Membership | Elected |
| Term | 18-May-09 to In office |
| Political Party | All India Anna Dravida Munnetra Kazhagam |
| Gender | Male |
| Educational Qualification | Post Graduate |
Performance in the 15thLok Sabha
| | |
| --- | --- |
| Debates participated | 57 |
| Private member bills passed | 0 |
| Questions asked | 659 |
| Attendance | 74% |