New Delhi Parliamentary Constituency 2019, New Delhi Lok Sabha Constituency Details, Political News New Delhi, Delhi Lok Sabha Elections 2019 News Updates, Delhi Parliamentary Constituency details 2019, New Delhi MP, Issues Political Analysis 2019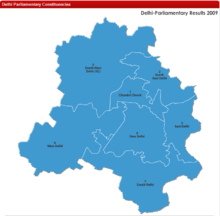 Election Results Facts:
| | | | | | |
| --- | --- | --- | --- | --- | --- |
| 2009 | Ajay Makan | INC | 105415 | 52.04% | 6.31% |
| 2009 | Jagmohan | BJP | 92631 | 45.73% | |
| 2004 | Ajay Makan | INC | 455867 | 59.59% | 24.55% |
| 2004 | Vijay Goel | BJP | 268058 | 35.04% | |
About Parliamentary Constituency:
With affluent colonies and Government employees largely dominating the New Delhi Parliamentary Constituency, development is set to be the main poll plank in the most prestigious segment.

The ruling Congress has its tail up by winning six seats in the 2008 Assembly Polls under the leadership of Chief Minister Sheila Dikshit. While Dikshit is eyeing to win the seat for the fourth time in a row; BJP's Vijender Gupta is determined to put up a stiff fight to his arch political rival in what could be the most keenly-contested battle. In the past too, the New Delhi constituency held its charm with several classic battles. The seat has been represented in the Lok Sabha by political heavyweights like Sucheta Kriplani, Atal Bihari Vajpayee, Lal Krishna Advani and Bollywood heartthrob of yesteryear's Rajesh Khanna.

The most prominent political establishments of the country, some of the most expensive residential addresses in the world and the high-end shopping destinations and tourist attractions characterise the New Delhi parliamentary constituency. Dominated by Government employees from various States, Punjabi migrants and middle class voters of various hues, the New Delhi constituency has emerged as the real metropolitan face of the Capital. What adds value to this prestigious seat is its representation in the Delhi Legislative Assembly by Chief Minister Sheila Dikshit for three terms in a row. True to its character, the seat is once again the ground for the most keenly-contested electoral battle between Dikshit and her political rival Vijender Gupta, the former president of Delhi BJP.

The New Delhi parliamentary constituency comprises the Assembly seats of New Delhi, Greater Kailash, Malviya Nagar, Karol Bagh (SC), Rajinder Nagar, Patel Nagar (SC), Kasturba Nagar, Delhi Cantonment, RK Puram and Moti Nagar. With the well developed and planned Lutyen's Zone and some posh localities, comprising a major part of the constituency, New Delhi is also the most urbanised pocket in the country. However, the previous election results have broken the myth that the urban voters are a monopoly of the BJP. The BJP lost its stronghold since 1952 - Kasturba Nagar constituency - to the Congress's first timer Neeraj Basoya. In the 2008 Assembly elections, the first after delimitation, the saffron party could flutter, in just four segments, with the Congress winning six.
Political Background :
Prior to delimitation too, New Delhi seat held its charm with several classic battles. In Parliament, the seat was represented by BJP icon Atal Bihari Vajpayee twice in 1977 and 1980 respectively. His tenure was followed by a sensational fight between another BJP heavyweight Lal Krishna Advani and Rajesh Khanna, the Bollywood heartthrob of the yesteryear's, wherein Advani had just managed to get better of the latter in a nail-biting finish. Later, Khanna was also elected from the seat defeating another actor-turned-politician Shatrughan Sinha. The New Delhi seat also went to apolitical persons like Jagmohan in 1996, 1998 and 1999 after it was won by Congress leader Ajay Maken in 2004 and 2009.

With a population of 2.65 lakh and the voters population at 1.45 lakh, the New Delhi Assembly constituency has 40 per cent areas of Sarojini Nagar, 47 per cent Gole Market and 13 per cent of Minto Road. Most of the New Delhi Municipal Council (NDMC) areas fall under this constituency. This segment has 37 per cent Government employees, 20 per cent Punjabi, 18 per cent Scheduled Caste, 10 per cent Bania, 10 per cent Brahmin and 1 per cent slum dwellers. The constituency comprises North Block and South Block, Janpath, NDMC areas, South Extension, Lodhi Colony, BK Dutt colony, Safdarjung Enclave, Rouse Avenue, President House, Chitragupta Road, Gole Dakkhana, Connaught Place, Panchkuiyan road, some parts of Minto road, RBI quarters and Sarojini Nagar.
Key issues:
price rise

corruption

traffic jam

parking crunch

inflated water

power bills

shortage of water and electricity.