Narasaraopet Andhra Pradesh Parliamentary Constituency 2019, Narasaraopet Lok Sabha Constituency Details, Political News Narasaraopet, Andhra Pradesh Lok Sabha Elections 2019 News Updates, Andhra Pradesh Parliamentary Constituency details 2019, Narasaraopet MP, Issues Political Analysis 2019: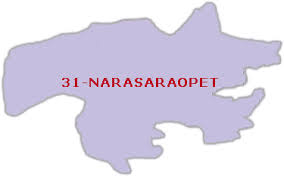 About the Constituency:
Situated in the Guntur District of Andhra Pradesh is the parliamentary constituency of Narasaraopet. It is one of the 42 Lok Sabha seats in Andhra Pradesh. The Narasaraopet Parliamentary constituency (constituency number 32) has a total of 1,360,431 electorates out of which 694,124 are females and 666,307 are males according to Election Commission of India 2009 reports.
Historical and Demographic Background:
The Guntur District, located along the eastern coast of the Bay of Bengal, has the city of Guntur as its administrative headquarters.Spread over 11,391 sq km of land and housing a total of 4,889,230 people (2011 Census), Guntur is part of the Red Corridor and is affected by frequent Maoist interventions.
Commercial Background:
Guntur is primarily an agrarian economy, surviving on agriculture as the major occupation in the region. The main crops grown in this district are paddy, chillies, tobacco, cotton and pulses.
Assembly Segments:
Seven Vidhan Sabha segments comprise this parliamentary constituency of Narasaraopet, all of which lie within the geographic boundaries of the Guntur district.
The table below shows the list of all the Assembly Constituencies that fall in Narasaraopet parliamentary constituency.
Names of Assembly Constituencies

Pedakurapadu

Chilakaluripet

Narasaraopet

Sattenapalli

Vinukonda

Gurajala

Macherla
Political Significance:
Guntur is part of the Red Corridor and is affected by frequent Maoist interventions.The seat of Narasaraopet has been a Congress stronghold from its early years, although presently has an MP of the Telugu Desam Party.
A Look: Sitting MP
| | |
| --- | --- |
| Name of MP | Modugula Venugopala Reddy |
| Age | 47 |
| Nature of Membership | Elected |
| Term | 18-May-09 to In office |
| Political Party | Telugu Desam Party |
| Gender | Male |
| Educational Qualification | Graduate |
Performance in the 15th Lok Sabha:
| | |
| --- | --- |
| Debates participated | 28 |
| Private member bills passed | 0 |
| Questions asked | 455 |
| Attendance | 68% |