Stage set for polling in Madhya Pradesh; Sushma Swaraj in fray
Details

Parent Category: Political News
Last Updated:

Thursday, 22 January 2015 20:57
Stage set for polling in Madhya Pradesh; Sushma Swaraj in fray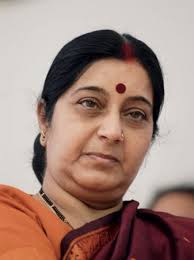 Bhopal: All arrangements have been made for voting in ten Lok Sabha seats in Madhya Pradesh on Thursday in the third and final phase of polling which will decide the fate of prominent candidates like Sushma Swaraj, Sumitra Mahajan and Kantilal Bhuria. (LIVE: Complete Updates on Lok Sabha Election Phase 6)

The seats where polling will be held from 7 am to 6 pm are Vidisha, Dewas, Ujjain, Mandsaur, Dhar, Ratlam, Indore, Khargone, Khandwa and Betul. Madhya Pradesh, which has 29 seats, voted on April 10 and April 17 for nine and ten seats respectively in the first and second phases.

A total of 16,95,3,358 voters, including 8,17,1,514 women, are eligible to exercise their right to franchise, election office sources said. (Lok Sabha 2014 Updates..Click Here)
The Commission has set up 19,446 polling booths. As many as 118 candidates, including 17 women are in the fray.
Elaborate security arrangements have been made for conducting polls in a free and peaceful manner, they said.
Prominent among those whose fate will be locked in EVMs tomorrow include BJP leaders Swaraj (Vidisha), Mahajan (Indore), Kantilal Bhuria (Ratlam) and Arun Yadav (Khandwa), both of Congress.
Congress General Secretary Digvijaya Singh's brother Laxman, a former MP, is pitted against Swaraj.
Source: IBNLive