Lok Sabha Elections: Repolling underway at four booths in Rajasthan
Details

Parent Category: Political News
Last Updated:

Thursday, 22 January 2015 20:57
Lok Sabha Elections: Repolling underway at four booths in Rajasthan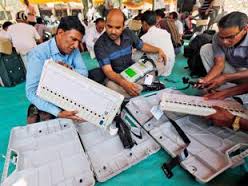 Repolling began on Monday morning at three booths in Barmer and one in Churu constituency for the Lok Sabha elections in Rajasthan.
The repoll was ordered by the Election Commission at four booths following some technical problem in electronic voting machines during the first phase on April 17. Repoll is being held peacefully at booth number 171, 226, 96 in Barmer constituency and polling station number 92 in Churu since 7 am, a CEO spokesman said in Jaipur.
Till midday, the polling percentage was over 55% at all 4 booths, he said. The polling for the first phase in 20 out of 25 constituencies in the state was held on April 17 while remaining five will go to the polls on April 24.
Source: ET