Mahabubnagar Andhra Pradesh Parliamentary Constituency 2019, Mahabubnagar Lok Sabha Constituency Details, Political News Mahabubnagar, Andhra Pradesh Lok Sabha Elections 2019 News Updates, Andhra Pradesh Parliamentary Constituency details 2019, Mahabubn
Details

Parent Category: Political News
Last Updated:

Tuesday, 29 January 2019 17:09
Mahabubnagar Andhra Pradesh Parliamentary Constituency 2019, Mahabubnagar Lok Sabha Constituency Details, Political News Mahabubnagar, Andhra Pradesh Lok Sabha Elections 2019 News Updates, Andhra Pradesh Parliamentary Constituency details 2019, Mahabubnagar MP, Issues Political Analysis 2019: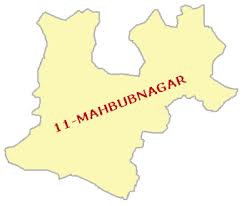 About Mahabubnagar and Demography:
Mahabubnagar is situated in the Mahabubnagar district, which is one of the 23 administrative districts in the state. Spanning an area of 18,432 sq km, the Mahabubnagar district is the second-largest district of Andhra Pradesh. The largest city of the state, Mahabubnagar, is the administrative center of the district by the same name.This district has a total population of 4,042,191 (2011 records).
About the Constituency:
Mahabubnagar is one of the 42 Lok Sabha seats which belong to the southern Indian state of Andhra Pradesh. According to Election Commission of India 2009 data the total electorates in the Mahabubnagar Parliamentary constituency (constituency number 11) were 1,368,868 of which 696,253 are females and 672,615 are males.
Significance about the Assembly segments:
It comprises seven Vidhan Sabha constituencies, none of which are reserved for the marginalized sections of the society.
Names of Assembly Constituencies

Kodangal

Narayanpet

Mahbubnagar

Jadcherla

Devarkadra

Makthal

Shadnagar
Unknown facts:
This district is underdeveloped, though, and is one of the 13 districts of Andhra Pradesh to be granted the special government funding under the Backward Regions Grant Fund Programme.
Political Background:
This district is currently part of the Red Corridor, owing to the frequent Naxal raids, which have deprived the region of social, political and economic stability.
A LOOK: Sitting MP
| | |
| --- | --- |
| Name of MP | Chandra Sekhar Kalva Kuntla Rao |
| Age | 59 |
| Nature of Membership | Elected |
| Term | 18-May-09 to In office |
| Political Party | Telangana Rashtra Samithi |
| Gender | Male |
| Educational Qualification | Post Graduate |
Performance in the 15th Lok Sabha:
| | |
| --- | --- |
| Debates participated | 2 |
| Private member bills passed | 0 |
| Questions asked | 0 |
| Attendance | 10% |