North West delhi Parliamentary Constituency 2014, North West delhi Lok sabha Contituency Details, Political News North West delhi, Delhi Lok Sabha Elections 2014 News Updates, Delhi Parliamentary Constituency details 2014, North West MP, Issues Political
Details

Parent Category: Political News
Last Updated:

Thursday, 22 January 2015 20:55
North West delhi Parliamentary Constituency 2014, North West delhi Lok sabha Contituency Details, Political News North West delhi, Delhi Lok Sabha Elections 2014 News Updates, Delhi Parliamentary Constituency details 2014, North West MP, Issues Political Analysis 2014: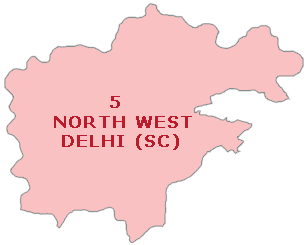 Election Results Facts: 
Krishna Tirath  

 

INC 
487404
56.84%
21.51%

Meera Kanwaria   

BJP 
302971
35.33%
Unknown facts:
Sharing its border with Haryana and comprising 100 villages, the north-western part of the city truly represents the rural face of Delhi. Over the years, cluster of villages in southern part of the city witnessed massive urbanisation and real estate boom, but North-West Delhi Lok Sabha area still lacks basic amenities, better roads and public transport. The sorry state of affairs can be gauged from the fact that no public convenience has been constructed here. Men are seen defecating in the open. According to a survey, the region does not have any toilet facility for women either.
Relevant issues:
Metro connectivity up to Mundka has addressed the issue of transportation to some extent but, it has largely failed to bring desirable growth in the realty sector and socio-economic lives of the residents, which is otherwise evident in South and East Delhi areas. Significantly, this region has seen little growth in terms of infrastructure over the past few years as only a few of the new roads were laid and some good education institutes came up, but comparatively the entire region remains considerably under-developed. Despite the fact that it has one of the biggest grain markets, industrial areas and cluster of DDA residential flats here; no elected representatives have cared enough to push for development of this sector.
May be this is the reason local issues play significant role in making opinion of the electorates of Assembly segments falling under North-West Lok Sabha seat.
Historical Signicficance:
North-West Parliamentary constituency has 70 per cent migrant population from Haryana and Western UP, mostly middle-level working class. There are also 20 per cent Poorvanchalis from Eastern UP, Bihar and Jharkhand. Following the restructuring of constituencies in 2008, it was made a reserved seat, which is dominated by old inhabitants Jats, Dalits, Brahmins and Muslim voters. It was carved out of the erstwhile Outer Delhi seat, which had enjoyed the status of being the largest Parliamentary seat in the country with 38 lakh voters till 2004.
Political Background:
Given the sizeable presence of traditional voters of the two main political parties, the Congress and BJP, usually have a close contest here. Beside villages, 20 JJ clusters and colonies like :
Sultanpuri

Mangolpuri

Bawana

Shahbad Dairy

Savda Ghevra also comes under this constituency.

On the other hand, urban pockets like

Rohini (DDA flats and group housing societies)

Prashant Vihar

Behra Enclave

and unauthorised regularised colonies like

Budh Vihar

Raja Vihar

Vijay Vihar

Shivaji Nagar

New Punjabi Colony

Narela

Swaroop Nagar

Mahabir Vihar

Sewak Park

Rama Vihar

Amar Colony (Kirari)

Prem Nagar (Kirari) are also parts of the constituency.
Areas which comprise: The North-West constituency has 10 Assembly segments that include:
Narela

Badli

Rithala

Bawana (reserved)

Mundka

Kirari

Sultanpur Majra (reserved)

Nangloi Jat

Mangolpuri (reserved)

Rohini.
At least 100 villages fall in this constituency. Some of them are
Sultanpur Majra

Mangolpuri

Alipur

Bhaktawarpur

Badli

Punjab Khor

Nagal Tharan

Bajitpur

Begumpur

Bawana

Barwala

Kanjhawala

Karala

Madanpur Dabas

Tikri Kalan

Nangloi Jat

Mundka

Nilothi.