Chelvella Andhra Pradesh Parliamentary Constituency 2019, Chelvella Lok Sabha Constituency Details, Political News Chelvella, Andhra Pradesh Lok Sabha Elections 2019 News Updates, Andhra Pradesh Parliamentary Constituency details 2019, Chelvella MP, Is
Details

Parent Category: Political News
Last Updated:

Tuesday, 29 January 2019 17:08
Chelvella Andhra Pradesh Parliamentary Constituency 2019, Chelvella Lok Sabha Constituency Details, Political News Chelvella, Andhra Pradesh Lok Sabha Elections 2019 News Updates, Andhra Pradesh Parliamentary Constituency details 2019, Chelvella MP, Issues Political Analysis 2019: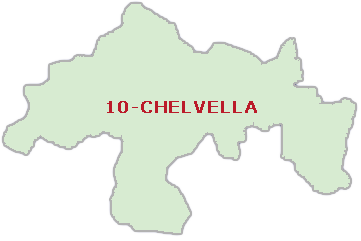 Demographic Background:
The Ranga Reddy district is home to the constituency of Chelvella. Formerly known as K. V. Ranga Reddy District and Hyderabad District, this district of Ranga Reddy was split from the Hyderabad District and formed in the year 1978. With a population of 5,296,396, this district has been identified as one of the 250 economically underdeveloped districts of the country. It is thus being funded under special governmental schemes such as the Backward Regions Grant Fund Programme. Spread over 7,493 sq km, Ranga Reddy is one of the most populous districts of Andhra Pradesh. The Hyderabad city is the administrative centre of the Ranga Reddy district, making this region one of the most urbanised areas of the state.
About the Constituency
:
The Chelvella Lok Sabha constituency, also called Chevella, is one of the 42 seats in the southern Indian state of Andhra Pradesh. 1,681,664 is the total electorate count in the Chelvella Lok Sabha Constituency (constituency number 10). Out of these 860,583 number of electorates are males and the remaining 821,081 are belong to the female category as the Election commission of India 2009 reports suggest.This constituency came into existence in 2008.
Assembly Segments
:
The assembly segments of Vicarabad and Chelvella, out of the total seven which form this parliamentary constituency of Chevella, are reserved for candidates belonging to the Scheduled Castes category.
Names of Assembly Constituencies

Maheshwaram

Rajendranagar

Serilingampally

Chevella (SC)

Pargi

Vikarabad(SC)

Tandur
A LOOK: Sitting MP
| | |
| --- | --- |
| Name of MP | Jaipal Sudini Reddy |
| Age | 71 |
| Nature of Membership | Elected |
| Term | 18-May-09 to In office |
| Political Party | Indian National Congress |
| Gender | Male |
| Educational Qualification | Post Graduate |