Medak Andhra Pradesh Parliamentary Constituency 2019, Medak Lok Sabha Constituency Details, Political News Medak, Andhra Pradesh Lok Sabha Elections 2019 News Updates, Andhra Pradesh Parliamentary Constituency details 2019, Medak MP, Issues Political Ana
Details

Parent Category: Political News
Last Updated:

Tuesday, 29 January 2019 17:05
Medak Andhra Pradesh Parliamentary Constituency 2019, Medak Lok Sabha Constituency Details, Political News Medak,
Andhra Pradesh Lok Sabha Elections 2019 News Updates, Andhra Pradesh Parliamentary Constituency details 2019, Medak MP, Issues Political Analysis 2019: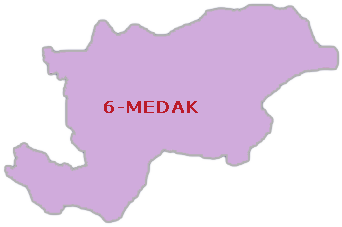 Historical Background:
Also known as Gulshanabad, the district of Medak is a historic region as it belonged to the Nizam princely state before Independence, and was later transferred as part of the Hyderabad state.
Demographic and Political Background:
Medak is one of the most populous cities in its eponymous district. Presently part of the Red Corridor, owing to Maoist insurgency, Medak is among the 13 economically underdeveloped districts in AP. It is therefore being funded under the Backward Regions Grant Fund Programme. A total of 2,670,097 people reside in the Medak district, as per 2011 data.
About the Constituency:
Covering parts of the Medak district of the state of Andhra Pradesh is a parliamentary constituency by the same name. Medak is one of the 42 Lok Sabha seats which belong to this state of southern India. According to Election Commission of India 2009 data the total electorates in the Medak Parliamentary constituency (constituency number 6) were 1,389,721 of which 700,849 are females and 688,872 are males.
Political Significance:
Being represented by the Telangana Rashtra Samithi for the last two consecutive terms of Lok Sabha, this constituency has seven Assembly segments.
Names of Assembly Constituencies

Siddipet

Medak

Narsapur

Sangareddy

Patancheru

Dubbak

Gajwel
A look: Sitting MP and his track record
| | |
| --- | --- |
| Name of MP | M. Vijaya Shanthi |
| Age | 47 |
| Nature of Membership | Elected |
| Term | 18-May-09 to In office |
| Political Party | Telangana Rashtra Samithi |
| Gender | Female |
| Educational Qualification | Matric |
Performance in the 15th Lok Sabha:
| | |
| --- | --- |
| Debates participated | 0 |
| Private member bills passed | 0 |
| Questions asked | 0 |
| Attendance | 12% |