Zahirabad Andhra Pradesh Parliamentary Constituency 2019, Zahirabad Lok Sabha Constituency Details, Political News Zahirabad, Andhra Pradesh Lok Sabha Elections 2019 News Updates, Andhra Pradesh Parliamentary Constituency details 2019, Zahirabad MP, Iss
Details

Parent Category: Political News
Last Updated:

Tuesday, 29 January 2019 17:03
Zahirabad Andhra Pradesh Parliamentary Constituency 2019, Zahirabad Lok Sabha Constituency Details, Political News Zahirabad,
Andhra Pradesh Lok Sabha Elections 2019 News Updates, Andhra Pradesh Parliamentary Constituency details 2019, Zahirabad MP, Issues Political Analysis 2019: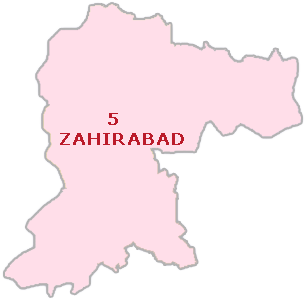 Historical and Demographic Background:
Zahirabad is located within the geographic boundaries of the Medak district. Medak, also known as Gulshanabad, has the city-town of Sangareddi as its administrative headquarters. With a population of 2,607,097, as per 2011 records, Medak has a rich historical legacy, as it was one of the most prestigious regions of the Nizam princely state, before being incorporated into the Hyderabad State after Independence.
About the Constituency
:
Formed in the year 2008, the Lok Sabha segment of Zahirabad is situated in the southern Indian state of Andhra Pradesh. It is one of the 42 Lok Sabha constituencies allotted to Andhra Pradesh. 1,359,566 is the total electorate count in the Zahirabad Lok Sabha Constituency (constituency number 5). Out of these 663,377 number of electorates are males and the remaining 696,189 are belong to the female category as the Election commission of India 2009 reports suggest.
Presently a part of the Red Corridor, Medak has been recognised as economically underdeveloped. Out of the seven legislative assembly segments which make up this Lok Sabha constituency, Jukkal, Andole and Zahirabad have been reserved for candidates belonging to the Scheduled Castes.
Assembly Sements:
The table below shows the list of all the Assembly Constituencies that fall in Zahirabad parliamentary constituency.
Names of Assembly Constituencies

Jukkal (SC)

Banswada

Yellareddy

Kamareddy

Narayankhed

Andole (SC)

Zahirabad (SC)
A LOOK: sitting MP
| | |
| --- | --- |
| Name of MP | Suresh Kumar Shetkar |
| Age | 53 |
| Nature of Membership | Elected |
| Term | 18-May-09 to In office |
| Political Party | Indian National Congress |
| Gender | Male |
| Educational Qualification | Graduate |
Performance in the 15th Lok Sabha:
| | |
| --- | --- |
| Debates participated | 19 |
| Private member bills passed | 0 |
| Questions asked | 808 |
| Attendance | 78% |