Peddapalli Andhra Pradesh Parliamentary Constituency 2019, Peddapalli Lok Sabha Constituency Details, Political News Peddapalli, Andhra Pradesh Lok Sabha Elections 2019 News Updates, Andhra Pradesh Parliamentary Constituency details 2019, Peddapalli MP
Details

Parent Category: Political News
Last Updated:

Tuesday, 29 January 2019 17:00
Peddapalli Andhra Pradesh Parliamentary Constituency 2019, Peddapalli Lok Sabha Constituency Details, Political News Peddapalli,
Andhra Pradesh Lok Sabha Elections 2019 News Updates, Andhra Pradesh Parliamentary Constituency details 2019, Peddapalli MP, Issues Political Analysis 2019: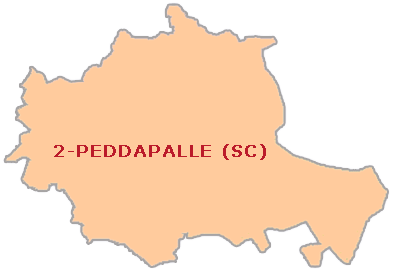 About the Constituency:
Reserved for candidates belonging to the Scheduled Castes, the Peddapalli Lok Sabha constituency is one of the 42 Lok Sabha segments which are representative of the southern Indian state of Andhra Pradesh. The Peddapalli Parliamentary constituency (constituency number 02) has a total of 1,315,642 electorates out of which 649,711 are females and 665,931 are males according to Election Commission of India 2009 reports. It belongs to the Karimnagar District, and is situated in the northwestern regions of Andhra Pradesh.
Unknown facts:
Out of these, Dharmapuri, Bellampalli and Chennur are reserved for candidates of the marginalised sections of society The district of Karimnagar, which is part of the Red Corridor, has been recognised as one of the economically- backward regions in the state, thus being funded by special governmental schemes such as the Backward Regions Grant Fund Programme. Agriculture forms the economic backbone of the region, with industries such as oil mills, grain mills, animal husbandry, and rice mills also present
Assembly Segments:
Names of Assembly Constituencies

Chennur (SC)

Bellampalli (SC)

Mancherial

Dharmapuri (SC)

Ramagundam

Manthani

Peddapalli
Political Background:
This constituency has been a vote-bank not only of the Congress, but also the Telugu Desam Party, which won the seat twice.One of the most popular leaders in this constituency, G. Venkat Swamy of the Congress, has been elected as MP four times.