Srikakulam Andhra Pradesh Parliamentary Constituency 2019, Srikakulam Lok Sabha Constituency Details, Political News Srikakulam, Andhra Pradesh Lok Sabha Elections 2019 News Updates, Andhra Pradesh Parliamentary Constituency details 2019, Srikakulam MP
Details

Parent Category: Political News
Last Updated:

Tuesday, 29 January 2019 17:29
Srikakulam Andhra Pradesh Parliamentary Constituency 2019, Srikakulam Lok Sabha Constituency Details, Political News Srikakulam,
Andhra Pradesh Lok Sabha Elections 2019 News Updates, Andhra Pradesh Parliamentary Constituency details 2019, Srikakulam MP, Issues Political Analysis 2019: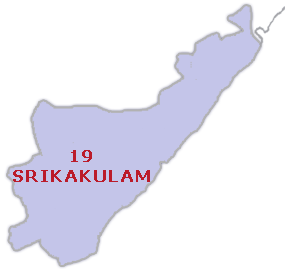 Historic and Demographic significance:
This district holds immense historical and archaeological significance, owing to the presence of ancient temples and other tourist attractions. Some of these are the Temple of Sun God at Arasavilli, Mukhalingam Temple, the Dantapuri Budhdhist Remnant Site, the Mahendra Tanaya, Ravi Valasa, and the famous beaches of Kalingapatnam, Baruva and Kallepalli, among others. With a total population of 2,537,597 (2001 census), the Srikakulam District is one of the most urbanized and populous districts in AP.
About the Constituency:
Belonging to the Srikakulam District in the northeastern parts of Andhra Pradesh, its eponymous Parliamentary constituency is one of the 42 Lok Sabha seats in the state. The total number of electorates in the Srikakulam Lok Sabha Constituency (constituency number 19) according to Election Commission of India 2009 reports are 1,226,125 of which 593,164 are males and 632,961 are females. The Srikakulam Lok Sabha seat, which fought its first general elections in the year 1952, holds political importance in Andhra Pradesh as a whole. Formerly known as Chicacole, the Srikakulam District has the town and municipality of Srikakulam as its administrative headquarters. One of the most renowned industries in this district is the medicine company called Dr. Reddy's Laboratories.
As per the Delimitation Commission's Order of 2008, a total of seven Assembly segments make up this Parliamentary constituency.
Names of Assembly Constituencies

Ichchapuram

Palasa

Tekkali

Pathapatnam

Srikakulam

Amadalavalasa

Narasannapeta
A LOOK: sitting MP and his track record:
| | |
| --- | --- |
| Name of MP | Killi Krupa Rani |
| Age | 48 |
| Nature of Membership | Elected |
| Term | 18-May-09 to In office |
| Political Party | Indian National Congress |
| Gender | Female |
| Educational Qualification | Graduate |
Performance in the 15th Lok Sabha:
| | |
| --- | --- |
| Debates participated | 19 |
| Private member bills passed | 0 |
| Questions asked | 338 |
| Attendance | 89% |