Former Army chief General VK Singh joins BJP, says the party can take the country forward.
Details

Parent Category: Political News
Last Updated:

Thursday, 22 January 2015 20:54
Ex-Army Chief General VK Singh joins Bhartiya janata party (BJP):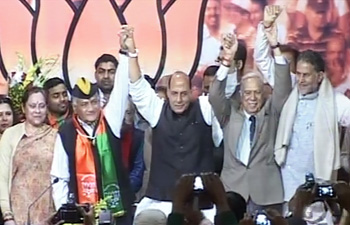 New Delhi: Former Army Chief General VK Singh, who was engaged in a bitter battle with the government over his age, is expected to join the Bharatiya Janata Party (BJP) today.
"The country's interest is supreme. And BJP is a party that works for national interest," General (retired) Singh said on Friday.

General (retired) Singh had met BJP leader and Madhya Pradesh Chief Minister Shivraj Singh Chouhan at his official residence in Bhopal last week which fueled speculation about his joining the party. The ex-army chief, though, described that meeting as "courtesy" visit. Source 'NDTV'
We need good governance that can propel the nation to development, he added.
The decision comes months after he shared dais with BJP's Prime Ministerial candidate Narendra Modi at an ex-servicemen rally in Rewari in Haryana.
It is, however, not yet clear whether BJP would field him in the upcoming Lok Sabha elections.
Singh's tenure as the Army Chief was marked by a controversy over his age. He became the first serving chief to drag the government to the court over his age issue which was decided in favour of the government by the Supreme Court.
The dispute over his age arose because he had two sets of date of birth -- May 10,1950 and May 10,1951 -- in his official records.
Government had recognised 1950 as his official date while he was insisting that it should be 1951, which would give him 10 months more in service.
Soon after retirement, Gen Singh had adopted an anti-government stance and blamed the bureaucracy and the Prime Minister's Office for creating troubles for him during his tenure.
Source : 'INDIATODAY'