Social activist Anna Hazare again hits out at Kejriwal, calls him power hungry
Details

Parent Category: Political News
Last Updated:

Thursday, 22 January 2015 20:54
Anna Hazare hits out at Arvind Kejriwal, calls him power hungry: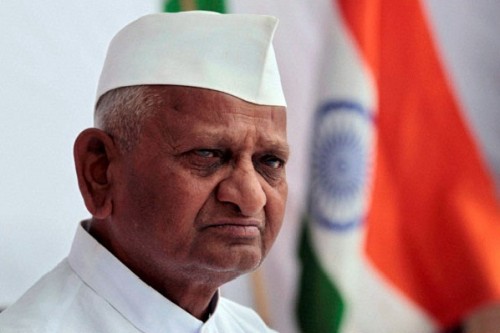 Pune: Once a mentor, Anna Hazare is now accusing former Delhi chief minister and Aam Aadmi Party chief Arvind Kejriwal of being "power hungry". 
Hazare said he was disappointed that Kejriwal had not responded to his 17-point agenda. 

"I had handed over a 17-point agenda letter to Kejriwal and told him that I would support him if he agrees to it. But till date, neither Kejriwal nor his party has given me any assurance on it. It is now very clear that these (AAP and Kejriwal) people are thinking of power more than of the nation. (Even if AAP comes to power) nation will not have any bright future as there will be no difference between them and other parties," the social activist said on Thursday.
The remarks have come even as Hazare backed West Bengal Chief Minister and Trinamool Congress chief Mamata Banerjee for the prime minister's post, as the latter had agreed to the Gandhian's 17-point agenda. 

Listing out his agenda and seeking various CMs' response to it, Hazare had said that village-centric social and economic initiatives and proposals like promoting vocational education and tough laws against corruption should be made part of the government's agenda. 

"I didn't support any political party in the past. For the first time in my life, I have announced support to Banerjee because no other party responded to my letter except her. I feel if the 17-point agenda is implemented, it will change the entire picture of the nation," he said. 

"She is the only leader who responded to my letter seeking support on 17 issues for good governance," he noted. 

"Mamata Banerjee has fought for the society and has faced physical assaults in national interest and I feel such people should lead the country. That is the reason I have extended my support to Banerjee. However, this support will be only till the coming polls," he said. 

"I have not supported Mamata Banerjee the person or the party but I liked her social and national perspective," he said. 

"I have extended my support to Mamata Banerjee as she thinks and works only for society and country. She is a CM and can lead a life full of luxury but she leads a simple life," Hazare said, justifying his support to the TMC chief. 

"I support the spirit of sacrifice that I see in Mamata Banerjee." 
Source: 'zeenews'