Last day of 15th Lok Sabha: PM addresses Parliament last time, Sushma praises Sonia, PM says country can take hard decisions, Sushma praises Sonia
Details

Parent Category: Political News
Last Updated:

Thursday, 22 January 2015 20:54
Last day of 15th Lok Sabha: PM addresses Parliament last time.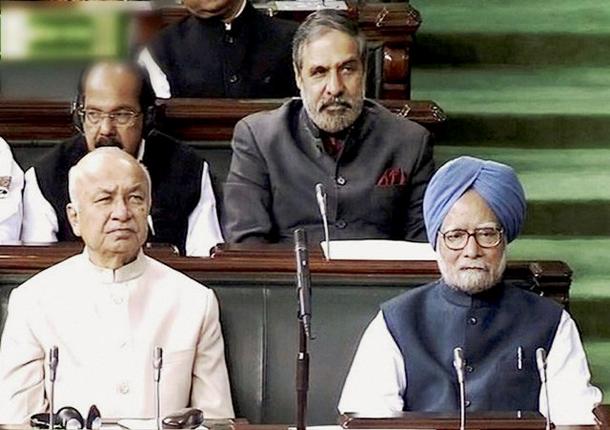 NEW DELHI: The passage of Telangana bill indicated that this country can take "difficult" decisions, Prime Minister Manmohan Singh said in the Lok Sabha on Friday.
In his concluding remarks on the last day of the 15th Lok Sabha, he said the manner in which the Telangana Bill was passed was another example that the country was capable of taking difficult decisions.
Unlike the disruptions and the slogan shouting, the House witnessed bonhomie and camaraderie on the last day with Prime Minister, leader of the House Sushilkumar Shinde, leader of the opposition Sushma Swaraj as also some other party leaders speaking well of each other.
Singh hoped that a new sense of consensus will emerge to carry the country to new pathways, noting that "out of this strife and tensionful atmosphere, birth of a new atmosphere of hope will emerge."
The Prime Minister, who has been at the helm for the past 10 years and has declared that he will not opt for a third term, said people will now have an opportunity to judge on performance, weaknesses and achievements of the government in the upcoming elections.
He hailed Shinde for performing his duties with superb aplomb and also praised the role of the leader of the opposition. Leader of the opposition Sushma Swaraj today praised Sonia Gandhi and other Congress leaders, returning the accolades received in the Lok Sabha.
Swaraj, who had once said that she will tonsure her head if Sonia Gandhi becomes Prime Minister, said she was a graceful leader.
As she spoke for the last time in the 15th Lok Sabha, which was adjourned sine die on Friday, Swaraj showered praise on BJP patriarch LK Advani who was seen with moist eyes.
Swaraj, who was at her witty best, drew applause from members as she mentioned that parliamentary affairs minister Kamal Nath tried "shararat (mischief)" ways, while Sushilkumar Shinde displayed "sharafat (decency)".
Besides, she said UPA chairperson Sonia Gandhi's gracefulness and the Prime Minister Manmohan Singh's gentleness helped in conduct of the 15th Lok Sabha.
While Swaraj appreciated the "nayay priyata (judicious)" approach of Advani, the BJP patriarch was seen with moist eyes and trying hard to control his tears.
"We are going back with so many sweet and sour memories," Swaraj said.
When the history of the 15th Lok Sabha is written, it will say that for most of the time there were interruptions but most awaited bills were also passed during this time, she noted.
She mentioned that many important bills including those related to Telangana, street vendors and land acquisition were passed in the 15th Lok Sabha.
"We oppose each other but we are not enemies ... We oppose ideologies," she said.
Swaraj also said that she cannot bless them victory but can wish them glory. "We should contest (elections) with dignity," she added.
Source: 'timesofindia'