BJP poised to win 50-55 seats in UP: Kalyan Singh, BJP, BJP leader Kalyan sigh is poised to win 50-55 seats in Uttar Pradesh in the upcoming Lok Sabha elections.
Details

Parent Category: Political News
Last Updated:

Thursday, 22 January 2015 20:54
BJP leader Kalyan sigh is poised to win 50-55 seats in Uttar Pradesh in the upcoming Lok Sabha elections.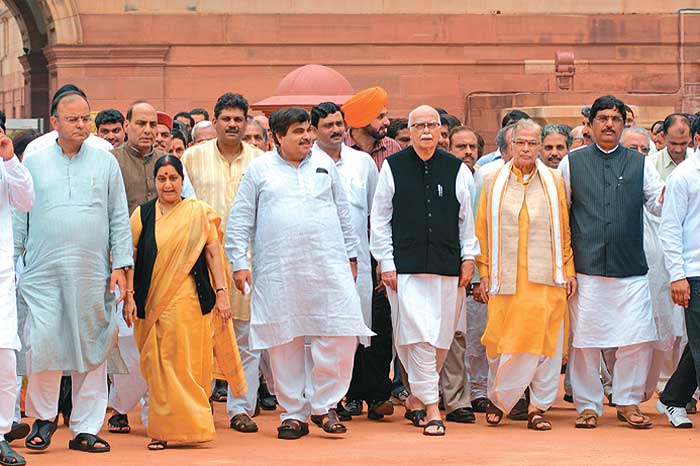 The BJP is poised to win 50-55 seats in Uttar Pradesh in the upcoming Lok Sabha elections, says former chief minister Kalyan Singh, who is set to return to the party soon. In an interview with Pankaj Molekhi, Singh exudes confidence that a fivefold jump compared with the last two elections is entirely possible because of a wave in favour of BJP's prime ministerial candidate Narendra Modi and shift in support of voters from backward castes towards the party. 
You have been sharing the dais with Narendra Modi at his rallies in UP, but you are still an independent MP. Do you plan to formally join BJP?
Kalyan Singh: I have requested BJP president Rajnath Singh and state in-charge Amit Shah to decide on the date so that I can resign from my Lok Sabha seat and join the party formally. It is only a matter of days now. Right now, our focus is on March 2 maha rally in Lucknow.
You had resigned as BJP vice-president citing humiliation in the party. Has that concern been taken care of?
Kalyan Singh: Beeti tahi bisaar de (let the past, bury the dead). Now when we are united, there is no point in digging the graves. My political career has always been with the BJP, barring this small lapse, and it shall remain with the BJP. My objective hereto will be to take the party to the same heights in UP as in 1998, when the BJP bagged 60 of the 85 Lok Sabha seats in the state. The political atmosphere is in favour of the BJP. The Modi wave is for everyone to see and the NDA will form the next government at the Centre under his leadership.
What role do you foresee for yourself after you join the party?
Kalyan Singh: This is completely the party's call. I am only a small activist of the BJP. Whatever role is assigned to me, I shall dutifully fulfil it.
How many seats do you expect BJP to win in UP?
Kalyan Singh: Congress will get six seats, SP eight and BSP nine. That makes 23 seats. BJP's tally will fall in the range of 50 to 55. Neither Kejriwal nor Ajit Singh will be able to win even a single seat from UP
BJP won 10 seats in UP in 2004 & 2009. What makes you confident of this fivefold jump?
Kalyan Singh: There is a Modi wave sweeping the state. The youth of all castes and communities see a leader in Modi who will give a new direction to the country. They are craving for a change - and they find a strong hope in Modi to bring about this change. The swelling crowds at his public rallies are indicative of this phenomenon. By the time election dates come, the Modi wave will turn into a storm.
But isn't this overdependence on Modi taking BJP to what LK Advani described as personality cult in a cadre-based party?
Kalyan Singh: The projection of a strong and popular leader by a political party isn't cult worship. Pandit Nehru was the face of the Congress for several Lok Sabha contests. A charismatic leader in any party will be positioned to lead from the front. Modi's principles, policies and his work as an able administrator have earned him this popularity
Modi speaks of 'one religion, nation first'. But your image remains that of a Hindu hardliner...
Kalyan Singh: A Hindu cannot be a hardliner. Hinduism is based on liberal thought, plurality and accommodation of varied beliefs.
source:http://economictimes.indiatimes.com/