How Media Covered Narendra Modi Chai Pe charcha Campaign, Narendra Modi's 'chai pe charcha': How global media covered it, Narendra Modi Chai Pe Charcha Campaign
Details

Parent Category: Political News
Last Updated:

Thursday, 22 January 2015 20:54
How global Media Covered Narendra Modi "Chai Pe charcha Campaign".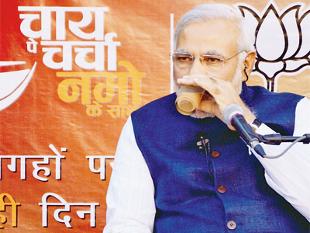 The Bharatiya Janata Party's public connect programme 'Chai Pe Charcha' (chat over tea) seems to have struck the right chord with voters back home and at the same time have got favourable press coverage abroad. Modi connected electronically with lakhs of his supporters and curious onlookers at his much-touted 'Chai Pe Charcha' event from the Iskcon Gandhi tea stall in western Ahmedabad. The event was relayed live at 1,000 tea stalls in 300 cities.
Times Now-CVoter survey Prediction : Congress is projected to get only 89 seats while the BJP is likely to cross 200 seats in the coming general elections...More...
At the event being organised by NGO Citizens for Accountable Governance, Modi appeared on a giant screen at each stall, of course with a cup of tea in hand, and answered questions selected by the NGO from its website. The stalls had big TV screens or projectors and were linked to the Ahmedabad centre through satellite, DTH, internet and mobile technologies.
The event got good press reviews even overseas.
"On Wednesday night, Mr Modi began Chai pe Charcha (Discussion over Tea), which saw him slurp a glass in his home state and take questions about governance. The event was broadcast to tea stands and their working class clients across the country in 300 cities," Agence France Presse wrote.
Without naming Harvard-educated Congress vice-president Rahul Gandhi, India watcher and political expert Christophe Jaffrelot said, "I do think now that times have changed and you can't claim that lineage is an asset. It's a liability."
"In a country where up to 90 per cent of the working population have jobs in the informal sector - like tea stalls - Mr Modi can sell his personal story to a formidable constituency," AFP wrote. "The problem with most politicians, be it Congress or BJP or whoever, is their arrogance," tea seller Rameez, 33, who works in the Delhi suburb of Noida, told the global news agency.
The Washington Post wrote, "Modi, the son of a train station tea vendor, is vying for power with Rahul Gandhi, 43-year-old scion of the powerful political dynasty that has dominated the Congress party. To emphasize Modi's humble beginnings, the BJP launched a nationwide "chat-over-tea" program with the candidate Wednesday. He sat in a roadside tea stall in Gujarat and took questions, via satellite link, from ordinary citizens at hundreds of similar stalls around the country."
In an Oct 2013 article titled 'Narendra Modi and the Calculus of Tea', Zach Marks had written in New York Times, "In his youth, Modi carried tea in a kettle from his father's shop to customers waiting for trains at the Vadnagar train station….This is not the first time a politician has used tea to curry favor with voters in Bihar.
When Lalu Prasad Yadav, a former chief minister of Bihar, became national railways minister in 2004, he mandated that in trains and on station platforms tea be served in kulhars, handmade clay cups, to provide employment for local potters and show his respect for tradition. The effort largely failed and today India's train tracks are littered with used plastic cups."
source:http://indiatoday.intoday.in/