AAP will fight lok sabh poll from 20 States, contest all 80 Lok Sabha seats in UP
Details

Parent Category: Political News
Last Updated:

Thursday, 22 January 2015 20:53
AAP will fight lok sabh poll from 20 States, contest  all 80 Lok Sabha seats in UP.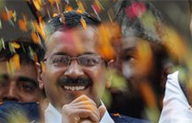 LUCKNOW: After tasting electoral success in Delhi, Aam Aadmi Party on Monday said it would contest the forthcoming Lok Sabha polls from 20 states, including Uttar Pradesh, where it would field candidates on all 80 seats.
"The national executive of AAP has decided to contest Lok Sabha polls in 20 states including UP, where we would contest on all 80 Lok Sabha seats," AAP national spokesman Sanjay Singh told reporters here.
He said Kumar Vishwas was likely to contest against Congress vice president Rahul Gandhi in Amethi, while candidates against prominent leaders like Sonia Gandhi and Mulayam Singh Yadav would be decided soon.
"We will try to finalise names of candidates by February 15 and all those desiring to contest Lok Sabha polls can apply by January 15. However, those applying would have to be recommended by at least 100 persons each from all the assembly constituencies in his or her area," he said.
The applications would be scrutinized by district and state-level monitoring committees before finalization of names, Singh said The party, besides declaring its national manifesto, would also make public its manifesto at local levels covering issues pertaining to that area, he said.
Replying to a question, Singh alleged that leaders like Mulayam Singh Yadav, Ram Vilas Paswan, Farooq Abdullah, Mamata Banerjee, Mayawati and others called themselves secular despite the fact that they were with BJP in the past. "Now, they are with Congress and labelling themselves as secular," he said.
He said AAP was in favour of diverting development funds of MPs and legislators to mohalla and gram sabhas so that people could decide where public money is to be spent. On January 12, the party would hold 'Jan Vishwas' rally in Amethi.source:timesofindia