J&K assembly Poll: Omar government failed on all fronts Syas PDP Chief Mufti Mohammad Sayeed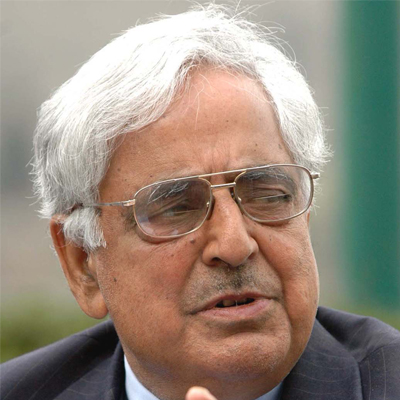 Kalakote (Rajouri): Peoples Democratic Party (PDP) on Tuesday attacked Omar Abdullah government saying it has failed on all fronts as a result the Centre, instead of sanctioning relief funds to the state government for flood victims, directly sent to them.
PDP Patron Mufti Mohmmad Sayeed while addressing an election rally here today said "the present NDA government headed by Narendra Modi has doubted credentials of present regime of Omar Abdullah. That is why, instead of sanctioning funds to the state government for flood victims, the Centre has announced to send funds directly to the victims."
Also Read:
Fifth Phase candidate List..Click here>>
J&K Phase 5 Assembly Election Facts 2014.Click here..>>
Mufti said Omar government has failed on all the fronts particular on peace and development and instead of resorted to corruption and nepotism and destroyed all democratic institutions in the state, Mufti said.
He said failure of the present government has squeezed space of dignity for all section of society, and all the positive initiatives taken by the previous government have been reversed and the atmosphere of hope that was generated, in the state, has disappeared.
Assuring to address grievances and aspirations of all regions and sub-regions of the state, Mufti said formation of PDP government in the State is writing on the wall. He assured that his party would aggressively pursue the pro-people policies and programmes.
"My sole aim in life is to bring J&K out of uncertainty and the resultant darkness that has engulfed it for decades," Mufti said. He further added that it was his dream to strengthen inter-regional relations among different regions and sub-regions of Jammu and Kashmir.
"For petty political gains some parties have brazenly propagated divisive agenda to create division different regions of the state," he said and asserted that PDP would work as cementing force to strengthen inter-regional relations in Jammu and Kashmir.
Sayeed said the trust deficit prevailing between different
regions and sub-regions of the state was result of the wrong policies and shifting stands of the leaders whom people have been choosing for long. PDP during its brief tenure acted as a bridge to minimize the gaps.
"We will aggressively pursue our agenda of peace, progress and unity to bring the J&K out of uncertainty and ackwardness," he maintained.
He said PDP's fight was not against any party or individual but it wants to establish an all inclusive democratic set up in the state where each citizen can live with dignity and honour.
Regretting present regime has eroded all democratic institutions in Jammu and Kashmir, Mufti reminded that during PDP-led rule the successive Central governments had sanctioned adequate funds for the developmental projects because that regime had earned credibility and legitimacy through its conviction.
He said PDP during its rule stood with its strong principles and tried to come up to the expectations of people by fulfilling its promises made in the election manifesto in 2002.
Mufti said that PDP has a vision for the overall peace and development of the state and if given decisive mandate by the people would be able to change the destiny of the state.
He further said PDP will carry forward its policies and agenda for resolution, reconciliation and reconstruction with the help of people only and hopefully leaving no role for discredited politicians who enriched themselves for decades over miseries of people.
He said it is PDP?s vision to get the state out of this morass without indulging in hoax slogans.
Mufti said PDP will usher in a new era of peace, prosperity and development in the state and will pick up the threads again, from where it left, when it had catalysed the process of development and progress.
src:ibnlive,economicstimes,zeenews