Assam Caste/Religion Wise population, Assam Caste wise demographics, Demographics of Assam, Assam Religion wise population, Assam Population, Assam Population and Census, Religion in Assam, Assam Basic Information, Hindu population in Assam, upper caste population in Assam
Details about the population of Assam based on India Census 2011. Assam district wise population, population based on religion in Assam. Get complete demographics about Assam.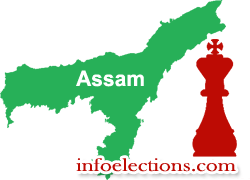 Assam's population was estimated at 28.67 million in 2006 and at 30.57 million in 2011 and is expected to reach 34.18 million by 2021 and 35.60 million by 2026.[64]
As per 2011 census, total population of Assam was 31,169,272. The total population of the state has increased from 26,638,407 to 31,169,272 in the last ten years with a growth rate of 16.93%.
Religion in Assam (2011)
Religion in Assam (2011)

Hinduism

61.46%

Islam

34.22%

Christianity

3.73%

Buddhism

0.17%

Jainism

0.08%

Sikhism

0.06%

Other or not religious

0.30%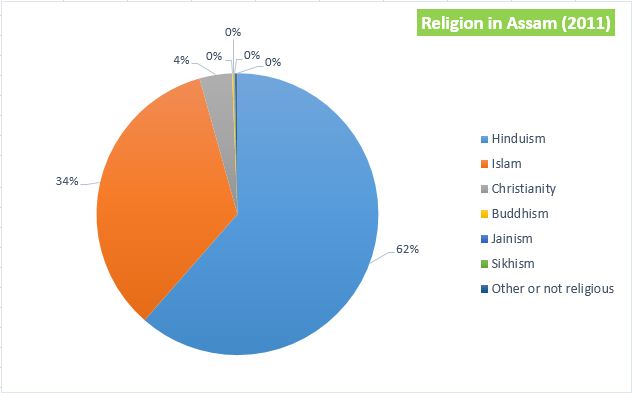 Below is a breakdown of the Muslim population by district in the Indian state of Assam according to the 2011 Census of India:




S.no.

District

Total population

Muslim population

Percentage

1

Baksa

9,50,075

1,35,750

14.29%

2

Barpeta

16,93,622

11,98,036

70.74%

3

Bongaigaon

7,38,804

3,71,033

50.22%

4

Cachar

17,36,617

6,54,816

37.71%

5

Chirang

4,82,162

1,09,248

22.66%

6

Darrang

9,28,500

5,97,392

64.34%

7

Dhemaji

6,86,133

13,475

1.96%

8

Dhubri

19,49,258

15,53,023

79.67%

9

Dibrugarh

13,26,335

64,526

4.86%

10

Dima Hasao

2,14,102

4,358

2.04%

11

Goalpara

10,08,183

5,79,929

57.52%

12

Golaghat

10,66,888

90,312

8.46%

13

Hailakandi

6,59,296

3,97,653

60.31%

14

Jorhat

10,92,256

54,684

5.01%

15

Kamrup

15,17,542

6,01,784

39.66%

16

Kamrup Metropolitan

12,53,938

1,51,071

12.05%

17

Karbi Anglong

9,56,313

20,290

2.12%

18

Karimganj

12,28,686

6,92,489

56.36%

19

Kokrajhar

8,87,142

2,52,271

28.44%

20

Lakhimpur

10,42,137

1,93,476

18.57%

21

Morigaon

9,57,423

5,03,257

52.56%

22

Nagaon

28,23,768

15,63,203

55.36%

23

Nalbari

7,71,639

2,77,488

35.96%

24

Sivasagar

11,51,050

95,553

8.30%

25

Sonitpur

19,24,110

3,50,536

18.22%

26

Tinsukia

13,27,929

48,373

3.64%

27

Udalguri

8,31,668

1,05,319

12.66%

Assam (Total)

3,12,05,576

1,06,79,345

34.22%