Raman Singh sworn in as chief minister of Chhattisgarh: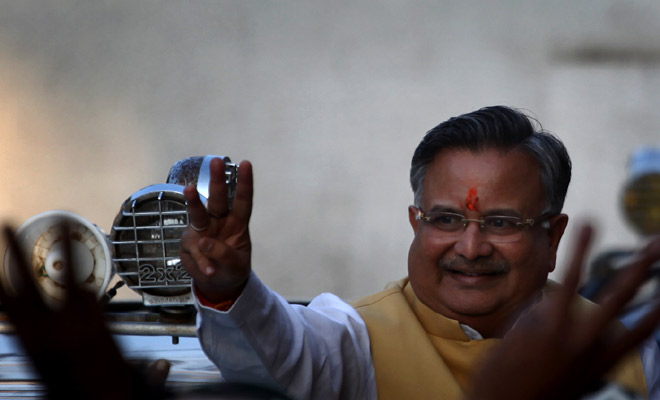 RAIPUR: Raman Singh was sworn in as chief minister of Chhattisgarh's third consecutive BJP government at a glittering public ceremony attended by a large number of people in the state capital on Thursday in the presence of a galaxy of political leaders, industrialists and other prominent personalities.
State governor Shekhar Dutt administered the oath of office of chief minister to the 61-year-old BJP leader, who steered the party to a hat-trick in the November assembly elections.
With this victory, Raman Singh achieves the rare feat of becoming a third-time chief minister of the BJP, after his Gujarat counterpart Narendra Modi. According to-"TOI"
The ceremony was also attended by BJP leaders Harshavardhan Singh, Venkaiah Naidu, Nitin Gadkari, Ravishankar Prasad, Rajiv Pratap Rudy, Navjot Singh Siddhu, Ananth Kumar, Uma Bharati, Smriti Irani and former Jharkhand Chief Minister Arjun Munda.
The BJP registered a thumping victory by winning 49 of the 90 seats, one less than its 2008 tally. Congress could bag 39 seats in the 90-member Assembly while the rest of the two seats went to BSP and an Independent each.
Singh retained his Rajnandgaon Assembly constituency by defeating Congress' candidate Alka Mudliyar, the wife of former Congress MLA Uday Mudliyar who was killed in the Darbha naxal attack in May this year, by a margin of 35,866 votes.
Singh has now joined the elite club of BJP chief ministers who have scored hat-tricks in their respective states.
Posters, banners and pamphlet carrying Singh's photo were put on almost all the roads and market areas across the city.
Singh, the two-term Chief Minister who had an uninterrupted 10-year rule in the tribal-dominated state, earned the 'Chawal Wale Baba" sobriquet for the popularity of his unique pro-welfare schemes including distribution of rice at Rs one and Rs two per kg to families belonging to extremely poor and below poverty lines categories -"News by indianexpress"