Details

Category:

Bihar Political News

Last Updated:

Monday, 26 October 2015 14:04
Bihar polls: Effect of caste factor on remaining phases,modi in bihar,bihar campaign,bihar assembly election 2015,caste equation, Bihar Assembly Elections,bihar assembly elections 2015, Caste equation in Bihar,Bihar Polls
Caste equation in Bihar: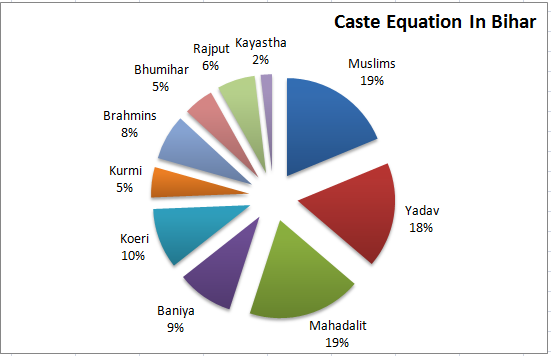 Caste Equation In Bihar

Muslims

15.00%

Yadav

14.00%

Mahadalit

15.00%

Baniya

7.50%

Koeri

8.00%

Kurmi

4.00%

Brahmins

6.00%

Bhumihar

4.00%

Rajput

5.00%

Kayastha

1.50%
Caste is in play in Bihar like always, but not the conventional Lalu Prasad way, with the non Yadav-Kurmis, from OBC category, seem to be consolidating in favour of the Bharatiya Janata Party-led National Democratic Alliance. While the atmosphere was in favour of Janata Dal United-Rashtriya Janata Dal-Congress Mahagathbandhan after the first two rounds of polling, it now seems that the situation has turned into nightmare for the alliance.
After speaking to voters in 20 Assembly constituencies across the river Ganges, it is clear that a new kind of polarisation is taking place in Bihar elections. Caste polarisation is at its peak but it is different from RJD supremo Lalu Prasad Yadav's 'Forward vs Backward' slogan, which he raised during a public rally in Tesra Diara.
Lalu wanted to rip apart caste groups in the state by giving the election a feel of Forward vs Backward, just like he did in 1990s in the wake of the Mandal Commission issue. In Bihar, the vote share of Other Backward Class is around 50 per cent, and it stands at 70 per cent if Dalits are included.
It now seems that Lalu's attempt to divide this vote share is not going to work for the Mahagathbandhan.
And credit for the same goes to Prime Minister Narendra Modi. In the last 10 days, BJP president Amit Shah and his allies Ram Vilas Paswan and Upendra Kushwaha have presented Modi as the face of OBC and sent a message among people that he wouldn't allow any attempt to end reservation.
Now in large numbers, OBC voters are once again coming out in support of Modi. Bihar is the state where entire election scenario changes overnight and the 12 days gap between second and third phase of polling has given the BJP a new lease of life to turn the air in its favour.
The NDA used claims by Nitish and Lalu that Mahagathbandhan is ahead in the first two rounds, as the BJP cadres began micromanagement in remote areas and now its effects are is visible. The difference is clearly visible even in Nitish Kumar's bastion Nalanda, where caste equation is equally divided in favour of Mahagathbandhan and NDA.
However, Lalu still enjoys the support of Yadavs and Muslims while Nitish has backing of Kurmi voters. But some people at Harnaut Market in Nalanda say they would vote for Modi.
According to a daily wager, Dinesh Paswan, "We understand Lalu's conspiracy. We won't come under his plot. Nitish has delusions of victory. What he did with our leader Ram Vilas Paswan, same thing will happen to Lalu. He is just playing forward and backward card for his son. We have understood this plot."
On the other hand, in Nitish Kumar's native village Kalyan Bigha, one Ram Vilas Shaw, who runs a tea shop, said, "Nitish has opened wine shops in villages. Youths are getting addicted. Apart from that he joined hands with Gundaraj (Lalu). You will see Nitish will lose three of the seven Assembly seats here."
This kind of trend is crucial because five-six days ago, non-Yadavs, non-Kurmis and a small group of Dalit voters in Bakhtiyarpur were in favour of giving another chance to Mahagathbandhan, just for Nitish Kumar. So, if one keeps aside 14 per cent Yadavs and four per cent Kurmi population from OBC, the remaining can definitely create trouble for Nitish and Lalu in the next three rounds. However, six per cent Kushwaha voters, who consider Upendra Kushwaha their leader, look divided wherever Mahagathbandhan has fielded Kushwaha candidates, for instance in Muzaffarpur's Kudhani seat.
On the other hand, due to Ram Vilas Paswan and Jitan Ram Manjhi, the Dalit voters are looking united in favour of NDA. Due to this new equation, Lalu's both son may be trailing from Raghopur and Mahua seats. For much surprise, even Yadav voters are looking divided on these seats.
At a tea shop near the remains of old Nalanda University, people were busy discussing elections and said that no one could defeat BJP's Satyadeo Narain Arya from Rajgir seat. Leaving 1990, Arya is sitting MLA from this seat since 1977. About the remaining six seats of Nalanda, they say, "Nitish has done one mistake. He has slapped us by joining hands with Lalu. If he snaps ties with Lalu even today, he will register a thumping victory. But what can be done now, he will have to face the music for his mistakes. As he belongs to us, we now want to see him as a leader of Opposition."
The same feeling was visible everywhere in the region. Nitish supporters have been left with no option but to vote for NDA. Sans Lalu supporters, everyone has a similar thought that if Nitish fought this election alone, no one can stop him to become CM for the third time in a row.
When asked whether Lalu has an advantage due to Nitish, one Vijendra Yadav from Raghopur said, "Yes. There is no doubt about it. When they fought election separately last time, Rabri Devi tasted defeat from Raghopur. Now when both are together, it might be possible for Lalu's son Tejaswi to win from here."