Political Consulting Survey Company Andhra Pradesh 2019 Opinion Poll Election Campaign Management Firm Leadtech
Political Consulting Survey Company Andhra Pradesh 2019
Our company, Leadtech, provides Political Consulting, Political Survey, Opinion Poll, Exit Poll, Constituency Profiling, Election Management and Political Campaingning for lok Sabha Elections, Assembly Elections, Legislative Elections Andhra Pradesh 2019
The legislative assembly election will be held in 2019 to elect members of the 175 constituencies in Andhra Pradesh.
Leadtech Political Consulting Survey Services Team
Team: Our team consists of graduates and post-graduates from IIT Bombay for the software development, and analytical work, post-graduates and PhDs. to manage the political, social and economic research work, post graduates from leading colleges of MCA to manage the database collected from the field, and data collection is done by the the people graduated from leading institutes of Mass Communication and Political Science. We have already served a number of leaders in Andhra Pradesh Assembly Elections 2013 and Lok Sabha Elections Andhra Pradesh 2014.
Andhra Pradesh Assembly Elections 2019 Details
Andhra Pradesh legislature assembly has 175 seats. For the election of its members, the state is divided into 175 Assembly Constituencies in which the candidate securing the largest number of votes is declared elected. In the Andhra Pradesh Assembly Elections 2014, the Telugu Desam Party formed the state government having secured a majority of 102 seats.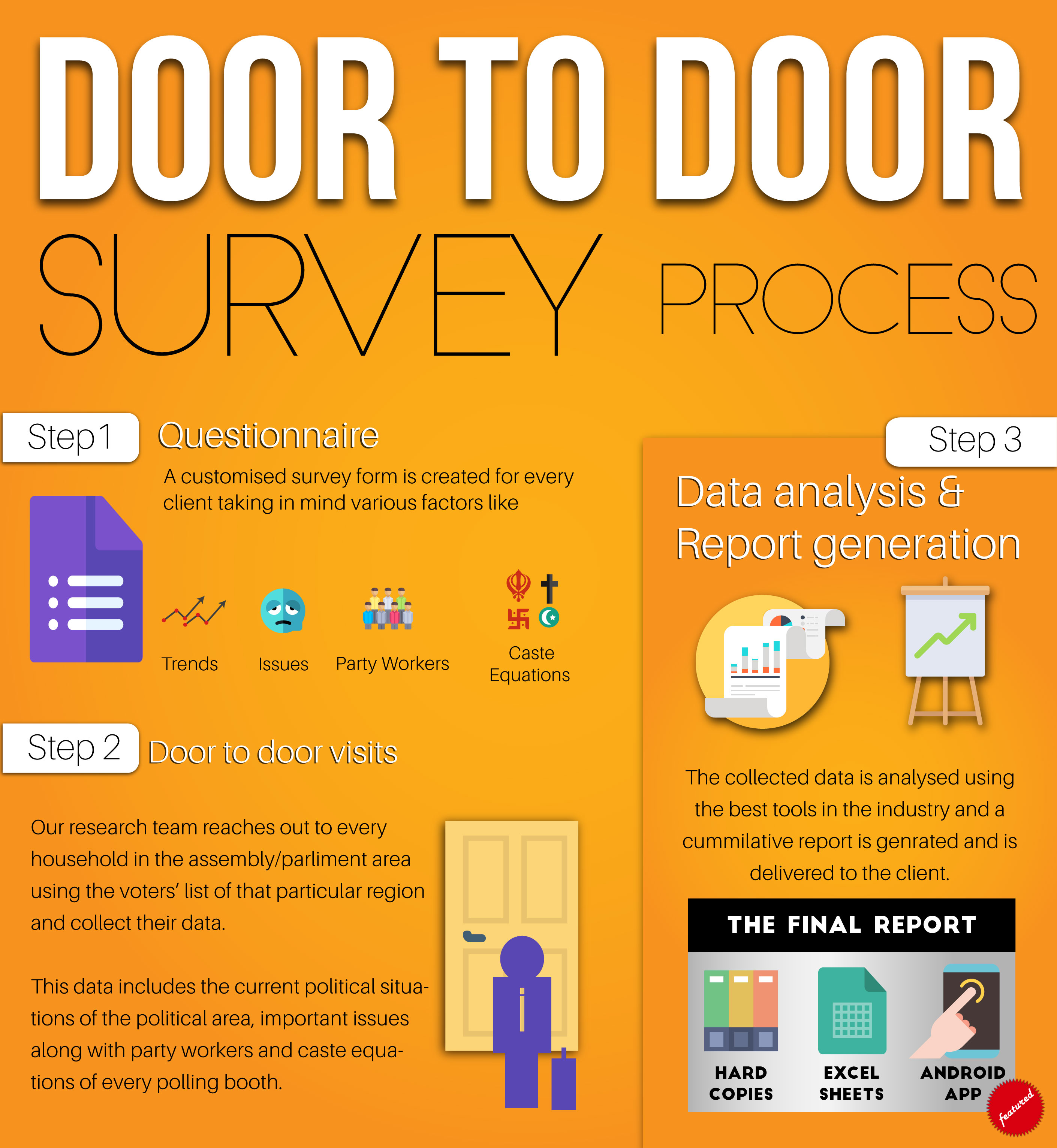 Schedule For Assembly Election Andhra Pradesh 2019

Poll

Event Dates

Day

Issue of Notification

Last date for making Nominations

Scrutiny of Nominations

Last date for withdrawal

Date of Poll

Counting of Votes

Date before which election process shall be completed
Quick facts for Andhra Pradesh Elections

Parliamentary Constituencies

25

Assembly Constituencies

175

Ruling Party

TDP

Opposition Party

YSR Congress

Chief Minister

Chandrababu Naidu

Governor

Sri. E S Lakshmi Narasimhan (Additional Charge of Telangana)




Chief Electoral Officer

Sri Bhanwar Lal

Address

H' Block, South wing,GA(Elections) Dept.
A.P. Secretariat, Hyderabad
040-23455781 (Fax)

Political Survey Election Campaign Management Andhra Pradesh
The first general elections were conducted in Andhra pradesh in 1956, for 249 constituencies representing 26 Districts. In 2009, the Andhra Pradesh State Legislative Assembly has 294 seats representing 23 districts. From 1956 to 1958 the Andhra Pradesh Legislature was Unicameral and from 1958 when the Council was formed, it became bicameral and continued till 1 June 1985 when the Legislative Council was abolished and the Andhra Pradesh Legislature once again Unicameral until March 2007 when it was reestablished and elections were held for its seats as per THE ANDHRA PRADESH LEGISLATIVE COUNCIL BILL, 2004.
Are you a political leader ? or aspirant who is going to contest Andhra Pradesh Assembly 2019 or Lok Sabha Elections 2019. At Leadtech we have served all kinds of political leaders and parties. Starting from Lok sabha elections and central level to Assembly Elections at state level and even local body elections we have helped leaders win elections with our expert team strategy and analysis. We have worked with big political leaders like national and state cabinet ministers, CMs and parties at state level and national level.
Various Political Survey Services and Consulting we provide are :-
Methodology : A field research will be carried out in the constituency at the Polling Booth level for Andhra Pradesh,

The questionnaire will focus on the following parameters:
1. Developmental aspects:
2.Image of the Leaders.
3.Image of the Parties.
4.Opinion Poll.
5.Important Issues.
6.Party Network.
7. Caste Equation
8.Overall Ranking and Satisfaction
Leadtech Political Consulting Political Survey Election Campaign Management Analysis
Analysis : The raw data from the field is compiled and a detailed research to correlate various factors will be conducted with respect to past election results. A comprehensive analysis will be carried out and focus areas will be shortlisted to be taken up further. This analysis will divide the booths in four groups, i.e., strong booths, weak booths, threatened booths, and opportune booths. A comparison between the strength of the individual vis a vis strength of the parties will also be done. In addition to the above analysis, the data gathered will be managed in software developed by Leadtech. This will enable the client to view the data collected through a user friendly graphical interface and come up with his own analysis and strategies.
Important points to be noted which can be done after this project:
ØThe data collected would be very precious during election

oTo manage the rally and party workers meetings, we can call our party workers with the help of phone numbers collected during survey which would be in database management software called "Voter Information Management System" alias VIMS

oCampaign management would be very easy during crucial period of elections since every detail is well managed in the software.

oYou can open a call center before 3 months of election to start the campaign (voter call center file attached here, explaining everything in detail).

Ø80% data would be factual which can be used in any election

ØThe software would be installed in the party office so that it may solve various purposes to manage day to day business of the leader.

ØWe can also start E-CAMPAIGN as soon as possible with the help of emails, websites, blogs and SMSes to influence those who are opinion makers.
In case of any clarifications, please feel free to contact us.
---
Leadtech Political Consulting Survey Consultant Details

Vivek Singh Bagri
Director ,
Cell: 09650060882, 0124 – 4113381
Email: This email address is being protected from spambots. You need JavaScript enabled to view it.
This email address is being protected from spambots. You need JavaScript enabled to view it.
Leadtech Management Consulting P L, Gurgaon
806, Tower B, Spaze IT Park, Sector-49, Sohna Road, Gurgaon, Haryana, 122003
Call Us to get a quote and Servies we can Offer
Cell: 09650394906, 0124 – 4113381, 4113384

Email: This email address is being protected from spambots. You need JavaScript enabled to view it. This email address is being protected from spambots. You need JavaScript enabled to view it.">
Visit us at www.leadtech.in
Andhra Pradesh Assembly constituencies for Political Survey, compiled Past election Results ,swing Margin, Candidates Details, MLA details , Polling Station, Voter List of each assembly.
Andhra Pradesh Constituency List 2019
| | | | |
| --- | --- | --- | --- |
| PC Name | Winner | Runner Up | Margin |
| 82.Achampet | GUVVALA BALARAJU(Telangana Rashtra Samithi) | CHIKKUDU VAMSHIKRISHNA(Indian National Congress) | 11820 |
| 175.Achanta | SATYANARAYANA PITHANI(Telugu Desam) | MUDUNURI PRASADA RAJU(Yuvajana Sramika Rythu Congress Party) | 3920 |
| 224.Addanki | GOTTIPATI RAVIKUMAR (BUJJI)(Yuvajana Sramika Rythu Congress Party) | VENKATESH KARANAM(Telugu Desam) | 4235 |
| 7.Adilabad | JOGU RAMANNA(Telangana Rashtra Samithi) | PAYAL SHANKER(Bharatiya Janata Party) | 14711 |
| 265.Adoni | Y.SAIPRASAD REDDY(Yuvajana Sramika Rythu Congress Party) | K.MEENAKSHI NAIDU(Telugu Desam) | 16831 |
| 97.Alair | GONGIDI SUNITHA(Telangana Rashtra Samithi) | BUDIDA BIKSHAMAIAH(Indian National Congress) | 31477 |
| 80.Alampur | S.A.SAMPATH KUMAR(Indian National Congress) | V.M.ABRAHAM(Telugu Desam) | 6730 |
| 253.Allagadda | BHUMA SHOBHA NAGI REDDY(Yuvajana Sramika Rythu Congress Party) | GANGULA PRABHAKARA REDDY(Telugu Desam) | 17928 |
| 266.Alur | GUMMANUR JAYA RAM(Yuvajana Sramika Rythu Congress Party) | B.VEERABHADRA GOWD(Telugu Desam) | 1919 |
| 125.Amadalavalasa | KOONA RAVIKUMAR(Telugu Desam) | THAMMINENI SEETHARAM(Yuvajana Sramika Rythu Congress Party) | 5449 |
| 163.Amalapuram | AITHABATHULA ANANDARAO(Telugu Desam) | BABU RAO GOLLA(Yuvajana Sramika Rythu Congress Party) | 12413 |
| 59.Amberpet | G.KISHAN REDDY(Bharatiya Janata Party) | AEDLA SUDHAKAR REDDY(Telangana Rashtra Samithi) | 62598 |
| 149.Anakapalli | PEELA GOVINDA SATYANARAYANA(Telugu Desam) | KONATHALA RAGHUNATH(Yuvajana Sramika Rythu Congress Party) | 22341 |
| 272.Anantapur urban | PRABHAKAR CHOWDARY. V(Telugu Desam) | B.GURUNATHA REDDY(Yuvajana Sramika Rythu Congress Party) | 9334 |
| 159.Anaparthy | NALLAMILLI RAMAKRISHNA REDDY(Telugu Desam) | SURYANARAAYANA REDDY SATHI(Yuvajana Sramika Rythu Congress Party) | 1373 |
| 36.Andole | BABUMOHANPALLY(Telangana Rashtra Samithi) | C.DAMODAR RAJANARSIMHA(Indian National Congress) | 3291 |
| 147.Araku valley | KIDARI SARVESWARA RAO(Yuvajana Sramika Rythu Congress Party) | SIVERI SOMA(Telugu Desam) | 34053 |
| 11.Armur | ASHANNAGARI JEEVAN REDDY(Telangana Rashtra Samithi) | K.R.SURESH REDDY(Indian National Congress) | 13964 |
| 5.Asifabad | KOVA LAXMI(Telangana Rashtra Samithi) | ATRAM SAKKU(Indian National Congress) | 19055 |
| 118.Aswaraopeta | THATI VENKATESWARLU(Yuvajana Sramika Rythu Congress Party) | MECHA NAGESWARA RAO(Telugu Desam) | 930 |
| 234.Atmakur | MEKAPATI GOUTHAM REDDY(Yuvajana Sramika Rythu Congress Party) | GUTURU MURALI KANNA BABU(Telugu Desam) | 31412 |
| 195.Avanigadda | BUDDHA PRASAD MANDALI(Telugu Desam) | RAMESH BABU SIMHADRI(Yuvajana Sramika Rythu Congress Party) | 5958 |
| 243.Badvel | THIRIVEEDI. JAYARAMULU .(Yuvajana Sramika Rythu Congress Party) | N. D. VIJAYA JYOTHI(Telugu Desam) | 9502 |
| 69.Bahadurpura | MOHD. MOAZAM KHAN(All India Majlis-E-Ittehadul Muslimeen) | MD. ABDUL RAHMAN @ MAHMOOD(Telugu Desam) | 95045 |
| 19.Balkonda | VEMULA PRASHANTH REDDY(Telangana Rashtra Samithi) | ANIL KUMAR ERAVATRI(Indian National Congress) | 36248 |
| 259.Banaganapalle | JANARDHANA REDDY B.C.(Telugu Desam) | RAMI REDDY KATASANI(Yuvajana Sramika Rythu Congress Party) | 17341 |
| 14.Banswada | SRINIVAS REDDY PARIGE(Telangana Rashtra Samithi) | BALARAJU KASULA(Indian National Congress) | 23930 |
| 211.Bapatla | KONA RAGHUPATHI(Yuvajana Sramika Rythu Congress Party) | ANNAM SATISH PRABHAKAR(Telugu Desam) | 5813 |
| 3.Bellampalli | DURGAM CHINNAIAH(Telangana Rashtra Samithi) | GUNDA MALLESH(Communist Party of India) | 52528 |
| 119.Bhadrachalam | SUNNAM RAJAIAH(Communist Party of India (Marxist)) | K.P.R.K. PHANEESWARAMMA(Telugu Desam) | 1815 |
| 178.Bhimavaram | RAMANJANEYULU PULAPARTHI (ANJI BABU)(Telugu Desam) | GRANDHI SRINIVAS(Yuvajana Sramika Rythu Congress Party) | 13726 |
| 139.Bhimli | GANTA SRINIVASA RAO(Telugu Desam) | KARRI SITA RAMU(Yuvajana Sramika Rythu Congress Party) | 37226 |
| 94.Bhongir | PAILLA SHEKAR REDDY(Telangana Rashtra Samithi) | JITTA BALA KRISHNA REDDY(Yuva Telangana Party) | 15416 |
| 108.Bhupalpalle | MADHUSUDANA CHARY SIRIKONDA(Telangana Rashtra Samithi) | GANDRA VENKATA RAMANA REDDY(Indian National Congress) | 7214 |
| 8.Boath | RATHOD BAPURAO(Telangana Rashtra Samithi) | JADHAV ANIL KUMAR(Indian National Congress) | 26993 |
| 133.Bobbili | VENKATA SUJAY KRISHNA RANGA RAO RAVU(Yuvajana Sramika Rythu Congress Party) | THENTU LAKSHMU NAIDU(Telugu Desam) | 6958 |
| 12.Bodhan | SHAKIL(Telangana Rashtra Samithi) | SUDARSHAN REDDY PODDUTURI(Indian National Congress) | 15884 |
| 285.Chandragiri | CHEVIREDDY BHASKAR REDDY(Yuvajana Sramika Rythu Congress Party) | ARUNAKUMARI GALLA(Telugu Desam) | 4518 |
| 67.Chandrayangutta | AKBARUDDIN OWAISI(All India Majlis-E-Ittehadul Muslimeen) | DR. KHAYAM KHAN(Majlis Bachao Tahreek) | 59274 |
| 66.Charminar | SYED AHMED PASHA QUADRI(All India Majlis-E-Ittehadul Muslimeen) | M A BASITH(Telugu Desam) | 36615 |
| 134.Cheepurupalle | KIMIDI MRUNALINI(Telugu Desam) | BOTCHA SATYANARAYANA(Indian National Congress) | 20842 |
| 2.Chennur | NALLALA ODELU(Telangana Rashtra Samithi) | GADDAM VINOD(Indian National Congress) | 26164 |
| 53.Chevella | KALE YADAIAH(Indian National Congress) | KORANI SAYANNA RATNAM(Telangana Rashtra Samithi) | 781 |
| 215.Chilakaluripet | PRATHIPATI PULLA RAO(Telugu Desam) | MARRI RAJASEKHAR(Yuvajana Sramika Rythu Congress Party) | 10684 |
| 187.Chintalapudi | PEETHALA SUJATHA(Telugu Desam) | BURLA DEVI PRIYA(Yuvajana Sramika Rythu Congress Party) | 15164 |
| 225.Chirala | AMANCHI KRISHNA MOHAN(Navodyam Party) | POTHULA SUNEETHA(Telugu Desam) | 10335 |
| 291.Chittoor | D. A. SATHYA PRABHA(Telugu Desam) | JANGALAPALLI SRINIVASULU (JMC)(Yuvajana Sramika Rythu Congress Party) | 6799 |
| 145.Chodavaram | KALIDINDI SURYA NAGA SANYASI RAJU (BABU)(Telugu Desam) | KARANAM DHARMASRI(Yuvajana Sramika Rythu Congress Party) | 909 |
| 27.Choppadandi | BODIGA SHOBHA(Telangana Rashtra Samithi) | SUDDALA DEVAIAH(Indian National Congress) | 54981 |
| 222.Darsi | RAGHAVA RAO SIDDA(Telugu Desam) | BUCHEPALLI SHIVA PRASAD REDDY(Yuvajana Sramika Rythu Congress Party) | 1374 |
| 183.Denduluru | CHINTHAMANENI PRABHAKAR(Telugu Desam) | KARUMURI VENKATA NAGESWARARAO(Yuvajana Sramika Rythu Congress Party) | 17746 |
| 86.Devarakonda | RAVINDRA KUMAR RAMAVATH(Communist Party of India) | BHEELYA NAIK KETHAVATH(Telugu Desam) | 4216 |
| 76.Devarkadra | ALLA VENKATESHWAR REDDY(Telangana Rashtra Samithi) | PAVAN KUMAR(Indian National Congress) | 16922 |
| 22.Dharmapuri | KOPPULA ESHWAR(Telangana Rashtra Samithi) | ADLURI LAXMAN KUMAR(Indian National Congress) | 18679 |
| 279.Dharmavaram | GONUGGUNTLA SURYANARAYANA(Telugu Desam) | KETHIREDDY VENKATA RAMI REDDY(Yuvajana Sramika Rythu Congress Party) | 14211 |
| 260.Dhone | BUGGANA RAJENDRANATH(Yuvajana Sramika Rythu Congress Party) | KAMBALAPADU EDIGA PRATHAP(Telugu Desam) | 11152 |
| 101.Dornakal | D.S. REDYA NAIK(Indian National Congress) | SATHYAVATHI RATHOD(Telangana Rashtra Samithi) | 23531 |
| 41.Dubbak | SOLIPTETA RAMA LINGA REDDY(Telangana Rashtra Samithi) | CHERUKU MUTHYAM REDDY(Indian National Congress) | 37925 |
| 151.ELAMANCHILI | PANCHAKARLA RAMESH BABU(Telugu Desam) | PRAGADA NAGESWARA RAO(Yuvajana Sramika Rythu Congress Party) | 8375 |
| 184.Eluru | BADETI KOTA RAMARAO (BUJJI)(Telugu Desam) | ALLA KALI KRISHNA SRINIVAS (ALLA NANI)(Yuvajana Sramika Rythu Congress Party) | 24603 |
| 126.Etcherla | KALAVENKATARAO KIMIDI(Telugu Desam) | GORLE KIRANKUMAR(Yuvajana Sramika Rythu Congress Party) | 4741 |
| 79.Gadwal | ARUNA D. K(Indian National Congress) | BANDLA KRISHNA MOHAN REDDY(Telangana Rashtra Samithi) | 8260 |
| 135.Gajapathinagaram | APPALANAIDU KONDAPALLI(Telugu Desam) | KADUBANDI SRINIVASA RAO(Yuvajana Sramika Rythu Congress Party) | 19423 |
| 144.Gajuwaka | PALLA SRINIVAS RAO(Telugu Desam) | NAGIREDDY TIPPALA(Yuvajana Sramika Rythu Congress Party) | 21712 |
| 42.Gajwel | KALVAKUNTLA CHANDRASHEKAR RAO(Telangana Rashtra Samithi) | PRATAP REDDY VANTERU(Telugu Desam) | 19391 |
| 290.Gangadhara Nellore | NARAYANASWAMY(Yuvajana Sramika Rythu Congress Party) | KUTHUHALAM GUMMADI(Telugu Desam) | 20565 |
| 165.Gannavaram | PULAPARTY NARAYANA MURTY(Telugu Desam) | CHITTI BABU KONDETI(Yuvajana Sramika Rythu Congress Party) | 13505 |
| 190.Gannavaram | VALLABHANENI VAMSI MOHAN(Telugu Desam) | DUTTA RAMACHANDRARAO(Yuvajana Sramika Rythu Congress Party) | 9548 |
| 99.Ghanpur (Station) | THATIKONDA RAJAIAH(Telangana Rashtra Samithi) | DR.GUNDE VIJAYA RAMA RAO(Indian National Congress) | 58829 |
| 231.Giddalur | ASHOK REDDY MUTHUMULA(Yuvajana Sramika Rythu Congress Party) | ANNA RAMBABU(Telugu Desam) | 12893 |
| 185.Gopalapuram | MUPPIDI VENKATESWARARAO(Telugu Desam) | TALARI VENKATRAO(Yuvajana Sramika Rythu Congress Party) | 11540 |
| 65.Goshamahal | T. RAJA SINGH(Bharatiya Janata Party) | M. MUKESH GOUD(Indian National Congress) | 46793 |
| 191.Gudivada | KODALI SRI VENKATESWARA RAO (NANI)(Yuvajana Sramika Rythu Congress Party) | RAAVI VENKATESWARA RAO(Telugu Desam) | 11537 |
| 239.Gudur | PASIM SUNIL KUMAR(Yuvajana Sramika Rythu Congress Party) | DR.BATHALA RADHA JYOTHSNA LATHA(Telugu Desam) | 9048 |
| 269.Guntakal | R. JITHENDRA GOUD(Telugu Desam) | Y. VENKATA RAMI REDDY(Yuvajana Sramika Rythu Congress Party) | 5094 |
| 214.Guntur East | MOHAMMAD MUSTHAFA SHAIK(Yuvajana Sramika Rythu Congress Party) | MADDALI GIRIDHARA RAO(Telugu Desam) | 3151 |
| 213.Guntur West | MODUGULA VENU GOPALA REDDY(Telugu Desam) | APPI REDDY LELLA(Yuvajana Sramika Rythu Congress Party) | 17913 |
| 219.Gurazala | YARAPATHINENI SRINIVASA RAO(Telugu Desam) | JANGA KRISHNA MURTHY(Yuvajana Sramika Rythu Congress Party) | 7187 |
| 276.Hindupur | BALAKRISHNA NANDAMURI(Telugu Desam) | B.NAVEEN NISCHAL(Yuvajana Sramika Rythu Congress Party) | 16196 |
| 32.Husnabad | VODITHELA SATHISH KUMAR(Telangana Rashtra Samithi) | ALIGIREDDY PRAVEEN REDDY(Indian National Congress) | 34269 |
| 31.Huzurabad | EATALA RAJENDER(Telangana Rashtra Samithi) | KETHIRI SUDARSHAN REDDY(Indian National Congress) | 57037 |
| 89.Huzurnagar | UTTAM KUMAR REDDY NALAMADA(Indian National Congress) | KASOJU SHANKARAMMA(Telangana Rashtra Samithi) | 23924 |
| 48.Ibrahimpatnam | MANCHIREDDY KISHAN REDDY(Telugu Desam) | MALREDDY RAMREDDY(Independent) | 11056 |
| 120.Ichchapuram | ASHOK BENDALAM(Telugu Desam) | NARTU RAMA RAO(Yuvajana Sramika Rythu Congress Party) | 25278 |
| 75.Jadcherla | CHARLAKOLA LAXMA REDDY(Telangana Rashtra Samithi) | DR. MALLU RAVI(Indian National Congress) | 14734 |
| 171.Jaggampeta | JYOTHULA NEHRU(Yuvajana Sramika Rythu Congress Party) | JYOTHULA CHANTI BABU @ NAGA VEERA VENKATA VISHNU SATYA MARTHANDARAO(Telugu Desam) | 15932 |
| 203.Jaggayyapeta | RAJA GOPAL SREERAM (TATHAIAH)(Telugu Desam) | UDAYA BHANU SAMINENI(Yuvajana Sramika Rythu Congress Party) | 1846 |
| 21.Jagtial | JEEVAN REDDY THATIPARTHI(Indian National Congress) | DR. M.SANJAY KUMAR(Telangana Rashtra Samithi) | 7828 |
| 250.Jammalamadugu | ADINARAYANA REDDY. CHADIPIRALA(Yuvajana Sramika Rythu Congress Party) | RAMASUBBAREDDY PONNAPUREDDY.(Telugu Desam) | 12167 |
| 98.Jangoan | MUTHIREDDY YADAGIRI REDDY(Telangana Rashtra Samithi) | PONNALA LAKSHMAIAH(Indian National Congress) | 32695 |
| 61.Jubilee Hills | MAGANTI GOPINATH(Telugu Desam) | NAVEEN YADAV V(All India Majlis-E-Ittehadul Muslimeen) | 9242 |
| 13.Jukkal | HANMANTH SHINDE(Telangana Rashtra Samithi) | GANGARAM S(Indian National Congress) | 35507 |
| 245.Kadapa | AMZATH BASHA S. B(Yuvajana Sramika Rythu Congress Party) | DURGAPRASAD RAO SUDHA(Telugu Desam) | 45205 |
| 280.Kadiri | ATTAR. CHAND BASHA(Yuvajana Sramika Rythu Congress Party) | KANDIKUNTA VENKATA PRASAD(Telugu Desam) | 968 |
| 192.Kaikalur | KAMINENI SRINIVAS(Bharatiya Janata Party) | UPPALA RAM PRASAD(Yekikrutha Sankshema Rashtriya Praja Party) | 21571 |
| 160.Kakinada City | VANAMADI VENKATESWARARAO (KONDABABU)(Telugu Desam) | DWARAMPUDI CHANDRASEKHARA REDDY(Yuvajana Sramika Rythu Congress Party) | 24000 |
| 157.Kakinada Rural | ANANTHA LAKSHMI PILLI(Telugu Desam) | SRINIVASA VENU GOPALA KRISHNA CHELLUBOYINA(Yuvajana Sramika Rythu Congress Party) | 9048 |
| 83.Kalwakurthy | CHALLA VAMSHICHAND REDDY(Indian National Congress) | ACHARY TALLOJU(Bharatiya Janata Party) | 78 |
| 273.KALYANDURG | VUNNAM HANUMANTHARAYA CHOWDARY(Telugu Desam) | BOYA THIPPE SWAMY(Yuvajana Sramika Rythu Congress Party) | 22319 |
| 249.Kamalapuram | POCHIMAREDDY RAVINDRANATH REDDY(Yuvajana Sramika Rythu Congress Party) | PUTHA NARASIMHA REDDY(Telugu Desam) | 5345 |
| 16.Kamareddy | GAMPA GOVARDHAN(Telangana Rashtra Samithi) | MOHD ALI SHABBIR(Indian National Congress) | 8683 |
| 228.Kandukur | POTHULA RAMARAO(Yuvajana Sramika Rythu Congress Party) | DIVI SIVARAM(Telugu Desam) | 3806 |
| 232.Kanigiri | KADIRI BABU RAO(Telugu Desam) | BURRA MADHUSUDANA RAO(Yuvajana Sramika Rythu Congress Party) | 7207 |
| 26.Karimnagar | GANGULA KAMALAKAR(Telangana Rashtra Samithi) | BANDI SANJAY KUMAR(Bharatiya Janata Party) | 24754 |
| 64.Karwan | KAUSAR MOINUDDIN(All India Majlis-E-Ittehadul Muslimeen) | BADDAM BAL REDDY(Bharatiya Janata Party) | 37777 |
| 233.Kavali | RAMIREDDY PRATAP KUMAR REDDY(Yuvajana Sramika Rythu Congress Party) | BEEDA MASTHAN RAO(Telugu Desam) | 4969 |
| 60.Khairatabad | CHINTALA RAMA CHANDRA REDDY(Bharatiya Janata Party) | DANAM NAGENDER(Indian National Congress) | 20846 |
| 112.Khammam | AJAY KUMAR PUVVADA(Indian National Congress) | THUMMALA NAGESWAR RAO(Telugu Desam) | 5609 |
| 6.Khanapur | AJMEERA REKHA(Telangana Rashtra Samithi) | RATHOD RITESH(Telugu Desam) | 38511 |
| 90.Kodad | PADMAVATHI REDDY NALAMADA(Indian National Congress) | BOLLAM MALLAIAH YADAV(Telugu Desam) | 13374 |
| 72.Kodangal | ANUMULA REVANTH REDDY(Telugu Desam) | GURUNATH REDDY(Telangana Rashtra Samithi) | 14614 |
| 262.Kodumur | M. MANI GANDHI(Yuvajana Sramika Rythu Congress Party) | MADHARAPU RENUKAMMA(Bharatiya Janata Party) | 52384 |
| 246.Kodur | KORAMUTLA SREENIVASULU(Yuvajana Sramika Rythu Congress Party) | OBILI SUBBARAMAIAH(Telugu Desam) | 1972 |
| 85.Kollapur | JUPALLY KRISHNA RAO(Telangana Rashtra Samithi) | BEERAM HARSHAVARDHAN REDDY(Indian National Congress) | 10498 |
| 229.Kondapi | DOCTOR.DOLA SREE BALA VEERANJANEYA SWAMY(Telugu Desam) | JUPUDI PRABHAKARA RAO(Yuvajana Sramika Rythu Congress Party) | 5440 |
| 20.Koratla | KALVAKUNTLA VIDYA SAGAR RAO(Telangana Rashtra Samithi) | JUVVADI NARSINGA RAO(Independent) | 20585 |
| 117.Kothagudem | VENKAT RAO JALAGAM(Telangana Rashtra Samithi) | VANAMA VENKATESHWARA RAO(Yuvajana Sramika Rythu Congress Party) | 16521 |
| 166.Kothapeta | CHIRLA. JAGGIREDDY(Yuvajana Sramika Rythu Congress Party) | BANDARU SATYANANDA RAO(Telugu Desam) | 713 |
| 235.Kovur | POLAMREDDY SRINIVASULU REDDY(Telugu Desam) | NALLAPAREDDY PRASANNA KUMAR REDDY(Yuvajana Sramika Rythu Congress Party) | 7937 |
| 173.Kovvur | K. S. JAWAHAR(Telugu Desam) | VANITA TANETI(Yuvajana Sramika Rythu Congress Party) | 12745 |
| 46.Kukatpally | MADHAVARAM KRISHNA RAO(Telugu Desam) | G. PADMA RAO(Telangana Rashtra Samithi) | 43186 |
| 294.Kuppam | NARA CHANDRA BABU NAIDU(Telugu Desam) | K.CHANDRAMOULI(Yuvajana Sramika Rythu Congress Party) | 47121 |
| 256.Kurnool | S.V.MOHAN REDDY(Yuvajana Sramika Rythu Congress Party) | T.G.VENKATESH(Telugu Desam) | 3479 |
| 130.Kurupam | PAMULA PUSHPA SREEVANI(Yuvajana Sramika Rythu Congress Party) | JANARDHAN THATRAJ VEERA VARA TODRAMALA(Telugu Desam) | 19083 |
| 49.Lal Bahadur Nagar | RYAGA KRISHNAIAH(Telugu Desam) | MUDDAGOWNI RAM MOHAN GOUD(Telangana Rashtra Samithi) | 12525 |
| 220.Macherla | RAMA KRISHNA REDDY PINNELLI(Yuvajana Sramika Rythu Congress Party) | CHALAMAREDDY KOMMAREDDY(Telugu Desam) | 3535 |
| 194.Machilipatnam | KOLLU RAVINDRA(Telugu Desam) | PERNI VENKATRAMAIAH (NANI)(Yuvajana Sramika Rythu Congress Party) | 15806 |
| 275.Madakasira | K. EERANNA(Telugu Desam) | MOPURAGUNDU THIPPE SWAMY(Yuvajana Sramika Rythu Congress Party) | 14712 |
| 283.Madanapalle | DR. DESAI THIPPA REDDY. M.S.(Yuvajana Sramika Rythu Congress Party) | CHALLAPALLE NARASIMHA REDDY(Bharatiya Janata Party) | 16589 |
| 114.Madhira | BHATTI VIKRAMARKA MALLU(Indian National Congress) | KAMAL RAJU LINGALA(Communist Party of India (Marxist)) | 12329 |
| 102.Mahabubabad | BANOTH SHANKAR NAYAK(Telangana Rashtra Samithi) | KAVITHA MALOTHU(Indian National Congress) | 9315 |
| 74.Mahbubnagar | SRINIVAS GOUD. V(Telangana Rashtra Samithi) | YENNAM SRINIVAS REDDY(Bharatiya Janata Party) | 3139 |
| 50.Maheshwaram | TEEGALA KRISHNA REDDY(Telugu Desam) | MALREDDY RANGA REDDY(Indian National Congress) | 30784 |
| 77.Makthal | CHITTEM RAM MOHAN REDDY(Indian National Congress) | YELKOTI YELLA REDDY(Telangana Rashtra Samithi) | 10027 |
| 58.Malakpet | AHMED BIN ABDULLAH BALALA(All India Majlis-E-Ittehadul Muslimeen) | B. VENKAT REDDY(Bharatiya Janata Party) | 23263 |
| 44.Malkajgiri | C. KANAKA REDDY(Telangana Rashtra Samithi) | RAM CHANDER RAO. N(Bharatiya Janata Party) | 2768 |
| 30.Manakondur | RASAMAI BALAKISHAN(Telangana Rashtra Samithi) | AREPALLI MOHAN(Indian National Congress) | 46922 |
| 4.Mancherial | DIWAKAR RAO NADIPELLI(Telangana Rashtra Samithi) | GADDAM ARAVINDA REDDY(Indian National Congress) | 59250 |
| 167.Mandapeta | JOGESWARA RAO. V(Telugu Desam) | GIRAJALA VENKATA SWAMY NAIDU(Yuvajana Sramika Rythu Congress Party) | 36014 |
| 206.Mangalagiri | ALLA RAMA KRISHNA REDDY (RK)(Yuvajana Sramika Rythu Congress Party) | GANJI CHIRANJEEVI(Telugu Desam) | 12 |
| 24.Manthani | PUTTA MADHUKAR(Telangana Rashtra Samithi) | DUDDILLA SRIDHAR BABU(Indian National Congress) | 19360 |
| 264.Mantralayam | Y BALANAGIREDDY(Yuvajana Sramika Rythu Congress Party) | PALAKURTHI THIKKAREDDY(Telugu Desam) | 7462 |
| 230.Markapuram | JANKE VENKATA REDDY(Yuvajana Sramika Rythu Congress Party) | KANDULA NARAYANA REDDY(Telugu Desam) | 9802 |
| 34.Medak | M.PADMA DEVENDER REDDY(Telangana Rashtra Samithi) | VIJAYA SHANTHI. M(Indian National Congress) | 39600 |
| 43.Medchal | MALIPEDHI SUDHEER REDDY(Telangana Rashtra Samithi) | THOTAKURA JANGAIAH(Telugu Desam) | 43455 |
| 88.Miryalguda | BHASKAR RAO NALLAMOTHU(Indian National Congress) | ALUGUBELLI AMARENDER REDDY(Telangana Rashtra Samithi) | 6054 |
| 10.Mudhole | GADDIGARI VITTAL REDDY(Indian National Congress) | DR. PADAKANTI RAMADEVI(Bharatiya Janata Party) | 14837 |
| 109.Mulug | AZMEERA CHANDULAL(Telangana Rashtra Samithi) | PODEM VEERAIAH(Indian National Congress) | 16399 |
| 162.Mummidivaram | DATLA SUBBA RAJU (BUCHI BABU)(Telugu Desam) | GUTHULA VENKATA SAI SRINIVASA RAO(Yuvajana Sramika Rythu Congress Party) | 29538 |
| 93.Munugode | KOOSUKUNTLA PRABHAKAR REDDY(Telangana Rashtra Samithi) | PALVAI SRAVANTHI(Independent) | 38055 |
| 57.Musheerabad | DR.K LAXMAN(Bharatiya Janata Party) | MUTA GOPAL(Telangana Rashtra Samithi) | 27386 |
| 252.Mydukur | RAGHURAMIREDDY SETTIPALLI(Yuvajana Sramika Rythu Congress Party) | PUTTA SUDHAKAR YADAV(Telugu Desam) | 11522 |
| 201.Mylavaram | UMA MAHESWARA RAO DEVINENI(Telugu Desam) | JOGI RAMESH(Yuvajana Sramika Rythu Congress Party) | 7569 |
| 289.Nagari | R.. K ROJA(Yuvajana Sramika Rythu Congress Party) | GALI MUDDU KRISHNAMA NAIDU(Telugu Desam) | 858 |
| 87.Nagarjuna Sagar | JANA REDDY KUNDURU(Indian National Congress) | NOMULA NARSIMAIAH(Telangana Rashtra Samithi) | 16476 |
| 81.Nagarkurnool | MARRI JANARDHAN REDDY(Telangana Rashtra Samithi) | KUCHAKULLA DAMODAR REDDY(Indian National Congress) | 14435 |
| 95.Nakrekal | VEMULA VEERESHAM(Telangana Rashtra Samithi) | CHIRUMARTHY LINGAIAH(Indian National Congress) | 2370 |
| 92.Nalgonda | KOMATIREDDY VENKAT REDDY(Indian National Congress) | KANCHARLA BHUPAL REDDY(Independent) | 10547 |
| 63.Nampalli | JAFFAR HUSSAIN(All India Majlis-E-Ittehadul Muslimeen) | MOHAMMED FEROZ KHAN(Telugu Desam) | 17296 |
| 202.Nandigama | THANGIRALA PRABHAKARA RAO(Telugu Desam) | DR. MONDITOKA JAGAN MOHAN RAO(Yuvajana Sramika Rythu Congress Party) | 5074 |
| 255.Nandikotkur | ISAIAH. YAKKALADEVI(Yuvajana Sramika Rythu Congress Party) | LABBI VENKATA SWAMY(Telugu Desam) | 21814 |
| 258.Nandyal | BHUMA NAGI REDDY(Yuvajana Sramika Rythu Congress Party) | SILPA MOHAN REDDY(Telugu Desam) | 3604 |
| 127.Narasannapeta | RAMANAMURTY BAGGU(Telugu Desam) | DHARMANA KRISHNA DAS(Yuvajana Sramika Rythu Congress Party) | 4800 |
| 177.Narasapuram | BANDARU MADHAVA NAIDU(Telugu Desam) | KOTHAPALLI SUBBARAYUDU (PEDABABU)(Yuvajana Sramika Rythu Congress Party) | 21712 |
| 216.Narasaraopet | DR.GOPIREDDY SRINIVASA REDDY(Yuvajana Sramika Rythu Congress Party) | NALABOTHU VENKATA RAO(Bharatiya Janata Party) | 15766 |
| 35.Narayankhed | PATLOLLA KISHTA REDDY(Indian National Congress) | MAHAREDDY BHUPAL REDDY(Telangana Rashtra Samithi) | 14746 |
| 73.Narayanpet | S.RAJENDER REDDY(Telugu Desam) | K.SHIVAKUMAR REDDY(Telangana Rashtra Samithi) | 2270 |
| 103.Narsampet | DONTHI MADHAVA REDDY(Independent) | PEDDI SUDARSHAN REDDY(Telangana Rashtra Samithi) | 18376 |
| 37.Narsapur | CHILUMULA MADAN REDDY(Telangana Rashtra Samithi) | VAKITI SUNITHA(Indian National Congress) | 14217 |
| 153.Narsipatnam | AYYANNAPATRUDU CHINTHAKAYALA(Telugu Desam) | UMA SANKAR GANESH PETLA(Yuvajana Sramika Rythu Congress Party) | 2338 |
| 136.Nellimarla | NARAYANA SWAMY NAIDU PATHIVADA(Telugu Desam) | P.V.V.SURYANARAYANA RAJU(SURESH BABU)(Yuvajana Sramika Rythu Congress Party) | 6973 |
| 236.Nellore City | ANIL KUMAR POLUBOINA(Yuvajana Sramika Rythu Congress Party) | M.SRIDHARA KRISHNA REDDY(Telugu Desam) | 19087 |
| 237.Nellore Rural | KOTAMREDDY SRIDHAR REDDY(Yuvajana Sramika Rythu Congress Party) | SANNAPUREDDY.SURESH REDDY(Bharatiya Janata Party) | 25653 |
| 174.Nidadavole | BURUGUPALLI SESHA RAO(Telugu Desam) | S.RAJIV KRISHNA(Yuvajana Sramika Rythu Congress Party) | 6359 |
| 9.Nirmal | ALLOLLA INDRA KARAN REDDY(Bahujan Samaj Party) | KUCHADI SRIHARIRAO(Telangana Rashtra Samithi) | 8497 |
| 18.Nizamabad (Rural) | GOVERDHAN BAJI REDDY(Telangana Rashtra Samithi) | DHARMAPURI SRINIVAAS(Indian National Congress) | 26547 |
| 17.Nizamabad (Urban) | BIGALA GANESH(Telangana Rashtra Samithi) | MIR MAJAZ ALI SHAIK(All India Majlis-E-Ittehadul Muslimeen) | 10308 |
| 189.Nuzvid | MEKA VENKATA PRATAP APPARAO(Yuvajana Sramika Rythu Congress Party) | MUDDARABOINA VENKATESWARA RAO(Telugu Desam) | 10397 |
| 227.Ongole | DAMACHARLA JANARDHANA RAO(Telugu Desam) | BALINENI SRINIVASAREDDY (VASU)(Yuvajana Sramika Rythu Congress Party) | 12428 |
| 148.Paderu | ESWARI GIDDI(Yuvajana Sramika Rythu Congress Party) | GODDETI DEMUDU(Communist Party of India) | 26141 |
| 176.Palacole | DR. NIMMALA RAMANAIDU(Telugu Desam) | MEKA SESHU BABU(Yuvajana Sramika Rythu Congress Party) | 6196 |
| 113.Palair | RAMIREDDY VENKATAREDDY(Indian National Congress) | BABY SWARNA KUMARI MADDINENI(Telugu Desam) | 21863 |
| 129.Palakonda | VISWASARAYI KALAVATHI(Yuvajana Sramika Rythu Congress Party) | JAYA KRISHNA NIMMAKA(Telugu Desam) | 1620 |
| 100.Palakurthi | DAYAKER RAO ERRABELLI(Telugu Desam) | DUGYALA SHRINIVAS RAO(Indian National Congress) | 4313 |
| 293.Palamaner | N.AMARANATH REDDY(Yuvajana Sramika Rythu Congress Party) | R.V.SUBASH CHANDRA BOSE(Telugu Desam) | 2850 |
| 121.Palasa | GOUTHU SYAM SUNDER SIVAJI(Telugu Desam) | BABU RAO VAJJA(Yuvajana Sramika Rythu Congress Party) | 17525 |
| 196.Pamarru | UPPULETI KALPANA(Yuvajana Sramika Rythu Congress Party) | VARLA RAMAIAH(Telugu Desam) | 1069 |
| 257.Panyam | GOWRU CHARITHA REDDY(Yuvajana Sramika Rythu Congress Party) | KATASANI RAMA BHUPAL REDDY(Secular Democratic Labour Party of India) | 11647 |
| 223.Parchur | YELURI SAMBASIVA RAO(Telugu Desam) | GOTTIPATI BHARATH KUMAR(Yuvajana Sramika Rythu Congress Party) | 10775 |
| 54.PARGI | TAMMANNAGARI RAM MOHAN REDDY(Indian National Congress) | KOPPULA HARISHWAR REDDY(Telangana Rashtra Samithi) | 5163 |
| 104.Parkal | CHALLA DHARMA REDDY(Telugu Desam) | SAHODER REDDY MUDDASANI(Telangana Rashtra Samithi) | 9108 |
| 131.Parvathipuram | BOBBILI CHIRANJEEVULU(Telugu Desam) | JAMMANA PRASANNA KUMAR(Yuvajana Sramika Rythu Congress Party) | 6129 |
| 40.Patancheru | GUDEM MAIPAL REDDY(Telangana Rashtra Samithi) | M SAPANADEV(Telugu Desam) | 18886 |
| 123.Pathapatnam | KALAMATA VENKATA RAMANA MURTHY(Yuvajana Sramika Rythu Congress Party) | SATRUCHARLA VIJAYA RAMA RAJU(Telugu Desam) | 3865 |
| 261.Pattikonda | KAMBALAPADU EDIGA KRISHNA MURTHY(Telugu Desam) | KOTLA HARI CHAKRAPANI REDDY(Yuvajana Sramika Rythu Congress Party) | 7639 |
| 152.PAYAKARAOPETA | ANITHA VANGALAPUDI(Telugu Desam) | CHANGALA VENKATA RAO(Yuvajana Sramika Rythu Congress Party) | 2828 |
| 204.Pedakurapadu | KOMMALAPATI SRIDHAR(Telugu Desam) | BOLLA BRAHMANAIDU(Yuvajana Sramika Rythu Congress Party) | 9196 |
| 193.Pedana | KAGITHA VENKATA RAO(Telugu Desam) | BURAGADDA VEDAVYAS(Yuvajana Sramika Rythu Congress Party) | 13694 |
| 25.Peddapalle | MANOHAR REDDY DASARI(Telangana Rashtra Samithi) | T. BHANU PRASAD RAO(Indian National Congress) | 62677 |
| 158.Peddapuram | NIMMAKAYALA CHINA RAJAPPA(Telugu Desam) | THOTA SUBBARAO NAIDU(Yuvajana Sramika Rythu Congress Party) | 10663 |
| 197.Penamaluru | BODE PRASAD(Telugu Desam) | KUKKALA VIDYASAGAR(Yuvajana Sramika Rythu Congress Party) | 31448 |
| 150.Pendurthi | BANDARU SATYANARAYANA MURTHY(Telugu Desam) | GANDI.BABJI(Yuvajana Sramika Rythu Congress Party) | 18648 |
| 277.Penukonda | B.K.PARTHASARATHI(Telugu Desam) | MALAGUNDLA SANKARANARAYANA(Yuvajana Sramika Rythu Congress Party) | 17415 |
| 282.Pileru | CHINTHALA RAMACHANDRA REDDY(Yuvajana Sramika Rythu Congress Party) | NALLARI KISHAN KUMAR REDDY(Jai Samaikyandhra Party) | 15313 |
| 110.Pinapaka | PAYAM VENKATESWARLU(Yuvajana Sramika Rythu Congress Party) | DR.SHANKAR. N(Telangana Rashtra Samithi) | 14065 |
| 156.Pithapuram | S.V.S.N. VARMA(Independent) | DORA BABU PENDEM(Yuvajana Sramika Rythu Congress Party) | 47080 |
| 186.Polavaram | MODIYAM SRINIVASA RAO(Telugu Desam) | TELLAM BALARAJU(Yuvajana Sramika Rythu Congress Party) | 15720 |
| 207.Ponnur | DHULIPALLA NARENDRA KUMAR(Telugu Desam) | RAVI VENKATA RAMANA(Yuvajana Sramika Rythu Congress Party) | 7761 |
| 155.Prathipadu | VARUPULA SUBBARAO(Yuvajana Sramika Rythu Congress Party) | PARVATHA SRI SATYANARAYANAMURTHY(Telugu Desam) | 3413 |
| 212.Prathipadu (SC) | RAVELA KISHORE BABU(Telugu Desam) | MEKATHOTI.SUCHARITHA(Yuvajana Sramika Rythu Congress Party) | 7405 |
| 251.Proddatur | RACHAMALLU SIVA PRASAD REDDY(Yuvajana Sramika Rythu Congress Party) | NANDYALA VARADA RAJULU REDDY(Telugu Desam) | 12945 |
| 248.Pulivendla | Y.S.JAGAN MOHAN REDDY(Yuvajana Sramika Rythu Congress Party) | VENKATA SATISH KUMAR REDDY SINGAREDDY(Telugu Desam) | 75243 |
| 284.Punganur | PEDDIREDDIGARI RAMACHANDRA REDDY(Yuvajana Sramika Rythu Congress Party) | M. VENKATARAMANA RAJU(Telugu Desam) | 31731 |
| 292.Puthalapattu | M. SUNIL KUMAR(Yuvajana Sramika Rythu Congress Party) | L. LALITHA KUMARI(Telugu Desam) | 902 |
| 278.Puttaparthi | PALLE RAGHUNATHA REDDY(Telugu Desam) | CHINTHAPANTI SOMASEKHARA REDDY(Yuvajana Sramika Rythu Congress Party) | 6964 |
| 45.Quthbullapur | K.P. VIVEKANAND(Telugu Desam) | K HANMANTH REDDY(Telangana Rashtra Samithi) | 39021 |
| 169.Rajahmundry City | AKULA SATYANARAYANA(Bharatiya Janata Party) | BOMMANA RAJ KUMAR(Yuvajana Sramika Rythu Congress Party) | 26377 |
| 128.Rajam | KAMBALA JOGULU(Yuvajana Sramika Rythu Congress Party) | KAVALI PRATHIBHA BHARATHI(Telugu Desam) | 512 |
| 244.Rajampet | MEDA VENKATA MALLIKARJUNA REDDY(Telugu Desam) | AMARNATH REDDY AKEPATI(Yuvajana Sramika Rythu Congress Party) | 11617 |
| 170.Rajamundry Rural | GORANTLA BUTCHAIAH CHOWDARY(Telugu Desam) | AKULA VEERRAJU(Yuvajana Sramika Rythu Congress Party) | 18058 |
| 168.Rajanagaram | PENDURTHI VENKATESH(Telugu Desam) | JAKKAMPUDI VIJAYA LAKSHMI(Yuvajana Sramika Rythu Congress Party) | 8887 |
| 51.Rajendranagar | TOLKANTI PRAKASH GOUD(Telugu Desam) | GNANESHWAR(Indian National Congress) | 25881 |
| 161.Ramachandrapuram | THOTA TRIMURTHULU(Telugu Desam) | PILLI BOSE(Yuvajana Sramika Rythu Congress Party) | 16922 |
| 23.Ramagundam | SOMARAPU SATYANARAYANA(Telangana Rashtra Samithi) | KORUKANTI CHANDER(All India Forward Bloc) | 2295 |
| 172.Rampachodavaram | VANTALA RAJESWARI(Yuvajana Sramika Rythu Congress Party) | SEETHAMSETTI VENKATESWARA RAO(Telugu Desam) | 8222 |
| 274.Raptadu | PARITALA SUNITHAMMA(Telugu Desam) | THOPUDURTHY PRAKASH REDDY(Yuvajana Sramika Rythu Congress Party) | 7774 |
| 247.Rayachoti | GADIKOTA SRIKANTH REDDY(Yuvajana Sramika Rythu Congress Party) | RAMESH KUMAR REDDY REDDEPPAGARI(Telugu Desam) | 34782 |
| 267.Rayadurg | KALAVA SRINIVASULU(Telugu Desam) | KAPU RAMACHANDRA REDDY(Yuvajana Sramika Rythu Congress Party) | 1827 |
| 164.Razole | GOLLAPALLI SURYA RAO(Telugu Desam) | BONTHU RAJESWARA RAO(Yuvajana Sramika Rythu Congress Party) | 4683 |
| 209.Repalle | ANAGANI SATYA PRASAD(Telugu Desam) | MOPIDEVI VENKATA RAMANA RAO(Yuvajana Sramika Rythu Congress Party) | 13355 |
| 132.Salur | RAJANNA DORA PEEDIKA(Yuvajana Sramika Rythu Congress Party) | RAJENDRA PRATAP BHANJ DEO(Telugu Desam) | 4997 |
| 62.Sanath Nagar | TALASANI SRINIVAS YADAV(Telugu Desam) | DANDE VITHAL(Telangana Rashtra Samithi) | 27461 |
| 39.Sangareddy | CHINTA PRABHAKAR(Telangana Rashtra Samithi) | JAYAPRAKASH REDDY .T(Indian National Congress) | 29522 |
| 226.Santhanuthalapadu | AUDIMULAPU SURESH(Yuvajana Sramika Rythu Congress Party) | VIJAY KUMAR B.N(Telugu Desam) | 1276 |
| 238.Sarvepalli | KAKANI GOVARDHAN REDDY(Yuvajana Sramika Rythu Congress Party) | CHANDRAMOHAN REDDY SOMIREDDY(Telugu Desam) | 5446 |
| 116.Sathupalli | SANDRA VENKATA VEERAIAH(Telugu Desam) | MATTA DAYANAND VIJAY KUMAR(Yuvajana Sramika Rythu Congress Party) | 2485 |
| 217.Sattenapalli | KODELA SIVA PRASADA RAO(Telugu Desam) | AMBATI RAMBABU(Yuvajana Sramika Rythu Congress Party) | 924 |
| 288.Satyavedu | TALARI ADITYA TARACHANDRAKANTH(Telugu Desam) | K.ADIMULAM(Yuvajana Sramika Rythu Congress Party) | 4227 |
| 70.secunderabad | T. PADMA RAO(Telangana Rashtra Samithi) | KUNA VENKATESH GOUD(Telugu Desam) | 25979 |
| 71.Secunderabad Cantt. | G .SAYANNA(Telugu Desam) | GAJJELA NAGESH(Telangana Rashtra Samithi) | 3275 |
| 52.Serilingampally | AREKAPUDI GANDHI(Telugu Desam) | KOMARAGONI SHANKER GOUD(Telangana Rashtra Samithi) | 75904 |
| 84.Shadnagar | ANJAIAH YELGANAMONI(Telangana Rashtra Samithi) | CHOWLAPALLY PRATHAP REDDY(Indian National Congress) | 17328 |
| 33.Siddipet | THANNEERU HARISH RAO(Telangana Rashtra Samithi) | TADURI SRINIVAS GOUD(Indian National Congress) | 93328 |
| 271.Singanamala | B. YAMINI BALA(Telugu Desam) | JONNALAGADDA PADMAVATHY(Yuvajana Sramika Rythu Congress Party) | 4584 |
| 29.Sircilla | K.TARAKARAMA RAO (KTR)(Telangana Rashtra Samithi) | KONDURU RAVINDER RAO(Indian National Congress) | 53004 |
| 1.Sirpur | KONERU KONAPPA(Bahujan Samaj Party) | KAVETI SAMMAIAH(Telangana Rashtra Samithi) | 8837 |
| 124.Srikakulam | GUNDA LAKSHMI DEVI(Telugu Desam) | DHARMANA PRASADA RAO(Yuvajana Sramika Rythu Congress Party) | 24131 |
| 287.Srikalahasti | GOPALA KRISHNA REDDY BOJJALA(Telugu Desam) | BIYYAPU MADHUSUDHAN REDDY(Yuvajana Sramika Rythu Congress Party) | 7583 |
| 254.Srisailam | BUDDA RAJA SEKHARA REDDY(Yuvajana Sramika Rythu Congress Party) | SILPA CHAKRAPANI REDDY(Telugu Desam) | 4861 |
| 138.Srungavarapukota | KOLLA LALITHA KUMARI(Telugu Desam) | RONGALI JAGANNADHAM(Yuvajana Sramika Rythu Congress Party) | 28537 |
| 240.Sullurpeta | SANJEEVAIAH KILIVETI(Yuvajana Sramika Rythu Congress Party) | PARASA VENKATA RATHNAIAH(Telugu Desam) | 3726 |
| 91.Suryapet | GUNTAKANDLA JAGADISH REDDY(Telangana Rashtra Samithi) | SANKINENI VENKATESHWER RAO(Independent) | 2219 |
| 181.Tadepalligudem | PYDIKONDALA MANIKYALARAO(Bharatiya Janata Party) | THOTA POORNA GOPALA SATYANARAYANA(Yuvajana Sramika Rythu Congress Party) | 14073 |
| 205.Tadikonda (SC) | TENALI SRAVANA KUMAR(Telugu Desam) | HENI CHRISTINA KATHERA(Yuvajana Sramika Rythu Congress Party) | 7542 |
| 270.Tadipatri | PRABHAKAR REDDY. J.C(Telugu Desam) | V.R.RAMI REDDY(Yuvajana Sramika Rythu Congress Party) | 22172 |
| 56.Tandur | P. MAHENDER REDDY(Telangana Rashtra Samithi) | MALKUD NARAYAN RAO(Indian National Congress) | 15982 |
| 180.TANUKU | ARIMILLI RADHA KRISHNA(Telugu Desam) | CHEERLA RADHA KRISHNA(Yuvajana Sramika Rythu Congress Party) | 30948 |
| 122.Tekkali | ATCHANNAIDU KINJARAPU(Telugu Desam) | DUVVADA SRINIVAS(Yuvajana Sramika Rythu Congress Party) | 8387 |
| 210.Tenali | ALAPATI RAJENDRA PRASAD(Telugu Desam) | ANNABATTUNI SIVA KUMAR(Yuvajana Sramika Rythu Congress Party) | 19065 |
| 281.Thamballapalle | G.SHANKAR(Telugu Desam) | ANIPIREDDY VENKATA PRAVEEN KUMAR REDDY(Yuvajana Sramika Rythu Congress Party) | 9190 |
| 96.Thungathurthy | GADARI KISHORE KUMAR(Telangana Rashtra Samithi) | ADDANKI DAYAKAR(Indian National Congress) | 2379 |
| 286.Tirupati | M. VENKATARAMANA(Telugu Desam) | BHUMANA. KARUNAKAR REDDY(Yuvajana Sramika Rythu Congress Party) | 41539 |
| 188.Tiruvuru | KOKKILIGADDA RAKSHANA NIDHI(Yuvajana Sramika Rythu Congress Party) | NALLAGATLA SWAMY DAS(Telugu Desam) | 1676 |
| 154.Tuni | DADISETTI RAJA(Yuvajana Sramika Rythu Congress Party) | YANAMALA KRISHNUDU(Telugu Desam) | 18573 |
| 242.Udayagiri | BOLLINENI VENKATA RAMARAO(Telugu Desam) | CHANDRASEKHAR REDDY MEKAPATI(Yuvajana Sramika Rythu Congress Party) | 3622 |
| 179.Undi | V V SIVA RAMA RAJU (KALAVAPUDI SIVA)(Telugu Desam) | PATHAPATI SARRAJU(Yuvajana Sramika Rythu Congress Party) | 36231 |
| 182.Unguturu | GANNI VEERANJANEYULU(Telugu Desam) | PUPPALA SRINIVASA RAO (VASUBABU)(Yuvajana Sramika Rythu Congress Party) | 8930 |
| 47.Uppal | NVSS PRABHAKAR(Bharatiya Janata Party) | BETHI SUBHAS REDDY(Telangana Rashtra Samithi) | 14169 |
| 268.Uravakonda | Y. VISWESWARA REDDY(Yuvajana Sramika Rythu Congress Party) | PAYYAVULA KESHAV(Telugu Desam) | 2275 |
| 146.V.Madugula | BUDI. MUTYALA NAIDU(Yuvajana Sramika Rythu Congress Party) | GAVIREDDI RAMANAIDU(Telugu Desam) | 4761 |
| 28.Vemulawada | RAMESH CHENNAMANENI(Telangana Rashtra Samithi) | AADI SRINIVAS(Bharatiya Janata Party) | 5268 |
| 208.Vemuru (SC) | ANANDA BABU NAKKA(Telugu Desam) | MERUGU. NAGARJUNA(Yuvajana Sramika Rythu Congress Party) | 2127 |
| 241.Venkatagiri | KURUGONDLA RAMAKRISHNA(Telugu Desam) | KOMMI LAKSHMAIAH NAIDU(Yuvajana Sramika Rythu Congress Party) | 5635 |
| 199.Vijayawada central | BONDA UMAMAHESWARA RAO(Telugu Desam) | GOWTHAM REDDY PUNURU(Yuvajana Sramika Rythu Congress Party) | 27161 |
| 200.Vijayawada East | GADDE RAMA MOHAN(Telugu Desam) | VANGAVEETI RADHAKRISHNAN(Yuvajana Sramika Rythu Congress Party) | 15503 |
| 198.Vijaywada West | JALEEL KHAN(Yuvajana Sramika Rythu Congress Party) | VELAMPALLI SRINIVASA RAO(Bharatiya Janata Party) | 3108 |
| 55.Vikarabad | B.SANJEEVA RAO(Telangana Rashtra Samithi) | G.PRASAD KUMAR(Indian National Congress) | 10072 |
| 218.Vinukonda | G. V.AANZANEYULU(Telugu Desam) | DR.NANNAPANENI SUDHA(Yuvajana Sramika Rythu Congress Party) | 21407 |
| 142.Visakhapatnam North | PENMETSA VISHNU KUMAR RAJU(Bharatiya Janata Party) | CHOKKAKULA VENKATA RAO(Yuvajana Sramika Rythu Congress Party) | 18240 |
| 143.Visakhapatnam West | P.G.V.R. NAIDU (GANA BABU)(Telugu Desam) | DADI RATNAKAR(Yuvajana Sramika Rythu Congress Party) | 30857 |
| 140.Visakhapatnam East | RAMAKRISHNA BABU VELAGAPUDI(Telugu Desam) | VAMSI KRISHNA SRINIVAS(Yuvajana Sramika Rythu Congress Party) | 47883 |
| 141.Visakhapatnam South | VASUPALLI GANESH KUMAR(Telugu Desam) | KOLA GURUVULU(Yuvajana Sramika Rythu Congress Party) | 18316 |
| 137.Vizianagaram | GEETHA MEESALA(Telugu Desam) | KOLAGATLA.VEERABHADHRASWAMY(Yuvajana Sramika Rythu Congress Party) | 15404 |
| 78.Wanaparthy | DR.G.CHINNA REDDY(Indian National Congress) | SINGIREDDY NIRANJAN REDDY(Telangana Rashtra Samithi) | 4291 |
| 106.Warangal East | KONDA SUREKHA(Telangana Rashtra Samithi) | BASWARAJU SARAIAH(Indian National Congress) | 55085 |
| 105.Warangal West | DASYAM VINAY BHASKER(Telangana Rashtra Samithi) | SWARNA ERRABELLI(Indian National Congress) | 56304 |
| 107.Wardhanapet | AROORI RAMESH(Telangana Rashtra Samithi) | KONDETI SHRIDHAR(Indian National Congress) | 86349 |
| 115.Wyra | BANOTH MADAN LAL(Yuvajana Sramika Rythu Congress Party) | BANOTH BALAJI(Telugu Desam) | 10583 |
| 68.Yakutpura | MUMTAZ AHMED KHAN(All India Majlis-E-Ittehadul Muslimeen) | CH ROOP RAJ(Bharatiya Janata Party) | 34423 |
| 111.Yellandu | KORAM KANAKAIAH(Indian National Congress) | BANOTHU HARIPRIYA(Telugu Desam) | 11507 |
| 15.Yellareddy | EANUGU RAVINDER REDDY(Telangana Rashtra Samithi) | JAJALA SURENDER(Indian National Congress) | 24009 |
| 263.Yemmiganur | B.JAYANAGESWARA REDDY(Telugu Desam) | K.JAGAN MOHAN REDDY(Yuvajana Sramika Rythu Congress Party) | 14361 |
| 221.Yerragondapalem | DAVID RAJU PALAPARTHI(Yuvajana Sramika Rythu Congress Party) | AJITHA RAO BUDALA(Telugu Desam) | 19071 |
| 38.Zahirabad | JETTY GEETA(Indian National Congress) | K.MANIK RAO(Telangana Rashtra Samithi) | 842 |