Naidu Against In Front Of Harikrishna Again.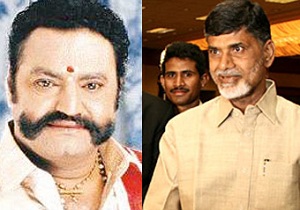 Rebellious Telugu Desam Party MP and politburo member Nandamuri Harikrishna, who has been maintaining not-so-healthy relationship with party president and his brother-in-law N Chandrababu Naidu, has once again burst out against the latter.
Harikrishna is not happy with the way Naidu has excused the three MPs – Sujana Chowdary, T Devender Goud and Gundu Sudha Rani and allowed them to go scot free, despite the fact that they had defied the party whip and abstained from voting on the foreign direct investment in Rajya Sabha last week.
"It is silly that they had excused themselves on the pretext of ill-health. Even I was not well on that day, but yet, I attended the session. Several MPs came to Delhi by special flights to participate in the voting in the House. But our MPs have brought down the party's prestige," he said.
He found fault with Naidu for not taking any action against the erring MPs, sending a wrong signal to the party cadres.
Harikrishna was also upset with the way Naidu had joined the issue with union minister Daggubati Purandeshwari over the installation of NTR statue.  At the same time, he was angry with the counter attack by Purandeshwari's husband Daggubati Venkateshwara Rao.
"It is an issue concerning the sons and daughters of NTR. Why should the sons-in-law or for that matter, the TDP, come into picture?" he questioned and expressed anguish over the way the statue issue had dragged the entire NTR family onto the streets.