About Indian Politics
Pakistan ex-head Musharraf charged in Bhutto death,Pakistan's Musharraf Charged in Death of Benazir Bhutto,Benazir Bhutto,Pervez Musharraf,Pakistani embassy,Rawalpindi,latest news, latest and political news, political news, latest and breaking news, break
Details

Parent Category: Indian Politics
Last Updated:

Thursday, 22 January 2015 20:47
Pakistan ex-head Musharraf charged in Bhutto death,Pakistan's Musharraf Charged in Death of Benazir Bhutto,Benazir Bhutto,Pervez Musharraf,Pakistani embassy,Rawalpindi,

latest news, latest and political news, political news, latest and breaking news, breaking news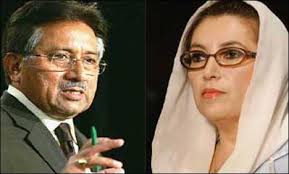 An anti-terrorism court in Rawalpindi, Pakistan, has indicted former president and army chief Pervez Musharraf and six others in the 2007 death of Pakistani Prime Minister Benazir Bhutto, according to the country's government-run radio station, Radio Pakistan.
No one could be reached at the Pakistani embassy in Washington. Musharraf denied the charges after they were read to him, according to the government station. A hearing will take place in the case on Aug. 27. Musharraf has asked not to have to appear in person before the court and a judge has reserved judgment on the request, according to the radio organization.
Also indicted were former Deputy Inspector General Saud Aziz' Superintendent of Police Khurram Aijaz' Rafaqat Hussain' Hussnain Gul' Sher Zaman and Abdul Rashid, Radio Pakistan says. Photos of Benazir Bhutto began emerging early Tuesday morning on a Facebook page created in support of her. Followers posted supportive comments such as "great leader."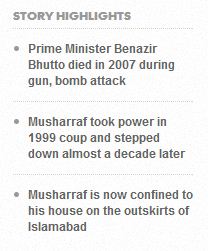 The court's decision marks the first time that any army chief in Pakistan has been charged with a crime. Musharraf took power in a 1999 coup and stepped down nearly a decade later. Prosecutor Chaudry Muhammed Azher says Musharraf has been charged with murder, conspiracy to commit murder and facilitation for murder, according to the Associated Press.
Bhutto died in 2007 during a gun and bomb attack at a rally in Rawalpindi. Prosecutors have said Musharraf, who was president at the time, failed to adequately protect her. Musharraf returned to Pakistan in March after nearly four years outside the country, according to the Associated press. He vowed he would take part in the country's May elections, but he has little popular support and has faced a litany of legal problems related to his rule. He has been confined to his house on the outskirts Islamabad as part of his legal problems, and was brought to court Tuesday amid tight security, the Associated Press reported.