Perambular Parliamentary Constituency 2019, Perambular Lok Sabha Constituency Details, Political News Perambular, Tamil Nadu Lok Sabha Elections 2019 News Updates, Tamil Nadu Parliamentary Constituency details 2019, Perambular MP Issues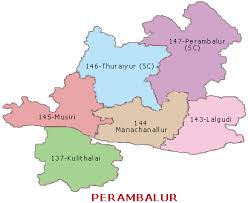 About Perambular:
One of the 39 parliamentary constituencies of the state of Tamil Nadu, Perambular Lok Sabha constituency was formed before the 1952 elections. The Perambalur Lok Sabha Constituency (constituency number 25) consists of 1,049,033 number of electorates in totality, of these 520,054 are males and 528,979 are females as the Election commission of India 2009 data suggests.
Assembly Segments:
Names of Assembly Constituencies

Kulithalai

Lalgudi

Manachanallur

Musiri

Thuraiyur (SC)

Perambalur (SC)
About Perambular:
It has 1,049,033 voters over six legislative assembly segments with two of them for the SC category and one for the ST category. Located at an average elevation of 143 m over an area of over 1,750 sq km, the Perambular District has its headquarters in the city of Perambular. It is located in the center of the State and has three taluks and 121 village panchayats.
As per 2011 Indian Census data, the district has a population of over 564,000 with 51% males and 49% females. With a population density of 323 inhabitants per sq km, it is the least population district of the state. Over 10% is under the age of six and the sex ratio is 1006 females per 1000 males. The average literacy rate here is 75%, with 84% male literacy rate and 67% female literacy rate. Tamil and English are the commonly used languages here. 32% of the population is SC and 0.22% is ST. The National Highways NH-45 and NH-226 along with the State Highway SH-157 connects the district to an extensive road network.
A Look: Sitting MP
| | |
| --- | --- |
| Name of MP | D. Napoleon |
| Age | 50 |
| Nature of Membership | Elected |
| Term | 18-May-09 to In office |
| Political Party | Dravida Munnetra Kazhagam |
| Gender | Male |
| Educational Qualification | Graduate |
Performance in the 15thLok Sabha
| | |
| --- | --- |
| Debates participated | 0 |
| Private member bills passed | 0 |
| Questions asked | 0 |
| Attendance | 6% |